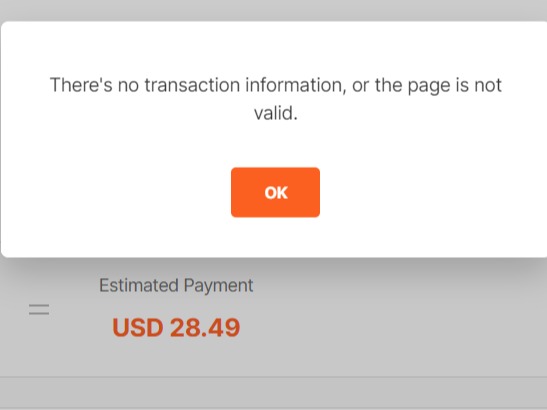 what is this stupid payment issue?
[1]
For past 3 days, I've been trying to buy games, but after waiting for payment, it always ends with "there's no transaction information, or the page is not valid" and kept refunding the game. My email is just full of 'payment has been made' and 'items has been refunded.' I contacted customer services and different supporting centers multiple times, but they never worked out. What am I even suppose to do?#help

공지
[Notice] STOVE STOVE Security Setting CampaignSetting Campaign
Hello, This is STOVE.We would like to guide how to set OTP security services to protect from being stolen from hackers.Please refer to STOVE OTP set and essential security guidance as below.● About Changing passwordWe consider that changing password is one of the easy but difficult method in security field.We assume that many users usually set and use their password in common.But STOVE recommends setting and managing password separately in each site, not to use consolidated password.If you use same password in every site, your account would be targeted in case your account is revealed to hackers.Even worse, other accounts which are using on other websites could belong to stolen case.Please be noted that your password can be changed from ' My info' section.※ Changing password : My info → Basic information → Click 'change' button located in the middle of the page.※ We recommend using 8~64 digits which are mixed with English and number and special symbol when you change your password● Setting STOVE OTPOnce you set your account with OTP, your cellphone will receive 8-digits via STOVE app every time log in to our service.This security service requires to type on Authentication number in time.☞ Go to OTP service guidance page※ Download STOVE OTP : Download STOVE Authenticator from Playstore or APP store by searching 'STOVE Authenticator'.● Block Overseas LoginIf you set Block Overseas Login function, you can block the access from other countries except your registered country.☞ Go to Block Overseas Login※ Block Overseas Login : My info → Security Settings → Click the 'Configure' button from Block Overseas Login field● Essential security guidance- Don't access to any information including E-mail, Text message which is sent from an unknown user- Don't download an application which is served not official site.- Update OS and vaccine program periodically.We promise STOVE will do our best to build the safest platform in the world.Thank you.

공지
Change your password periodically
Hello, This is STOVE.We strongly ask our members to change passwords periodicallyand set different passwords for each website to protect their personal information.If you had registered on STOVE with E-mail,please set a different password compared with your original E-mail account.Also, STOVE accepts E-mail addresses when members register on our service and sends verification numbers to received E-mail account. So, please set Security functions and change your password periodically.● Set password in safe- please set a different password compared with your original E-mail account.- Please avoid using a name, phone number, predictable password.- Please use a combination of letters and number and special symbols like !,@,^^,* on your password- Please add a number or special symbols in the middle of the English letter like 'st^^ove'● Privacy Policy- Withdrawal from unused website- Don't register on the suspicious website- Don't offer personal information from public computer or use open network☞ Go to STOVE Security setting page☞ Go to changing password pageWe will do our best to serve you best service.Thank you.
Terms and Conditions Revision (29 DECEMBER 2022)
Hello, This is Smilegate STOVE.We would like guide our members that Smilegate STOVE will merged into Smilegate Holdings.Please refer to the following change to avoid any inconvenience to the service.■ Reason for revision- Policy and company name are revised due to Smilegate STOVE is transfered to Smilegate Holdings■ Revision contents- Terms and Conditions of Service Use of STOVE- Terms and Conditions of Paid-Services of STOVE- STOVE Operational PolicyBefore AmendmentAfter AmendmentSmilegate STOVE INCSmilegate Holdings INC■ Application date and time: 29 DEC 2022※ Revised contents will be applied if there is not opposite opinion on the revised terms■ Rejection and Inquiry- If you have any opinion or question about revised contents, please contact to Customer Center. We will answer your inquiry as soon as we can. Thank you.
Announcement of Transfer of Personal Data Following Merger
Hello, This is Smilegate STOVE.We appreciate our members for using STOVE service and want to guide them about the migration of personal information.Please be notified that Smilegate Stove Inc.("we" or the "Merged Company") will be merged with and into Smilegate Holdings Inc.("Smilegate Holdings") based on the decision of our general meeting of shareholders to approve such merger (the "Merger") on November 25, 2022.In line with personal data of members under our possession will be transferred to Smilegate Holdings on the date of the Merger: December 29, 2022. (However, please be noted that the dates of the Merger, the Merger and transfer of personal data are subject to change or postponement, and changes, if any, in such dates will be further announced.)■ Who is Responsible?The following companies are responsible for the processing of personal data within the transfer:◎ Merged Company, as the transferor : - Smilegate Stove Inc. - 8F, 10F, Smilegate Campus, 344, Pangyo-ro Bundang-gu, Seongnam-si, Gyeonggi-do 13493 Korea - 82-1670-0399 - stove@smilegate.com◎ Smilegate Holdings, as the transferee: - Smilegate Holdings Inc. - 5F, Solidspace Building, 220, Pangyoyeok-ro - Bundang-gu, Seongnam-si, Gyeonggi-do 13493 Korea - 82-31-600-8200■ What Data Are We Transferring?We will transfer the personal data of our members that we hold at the time of the Merger and that are needed to conduct our business activities. Depending on the data subjects, the following categories of data that we have collected will be transferred: • Data collected when you sign up for our Services: - with your STOVE account: STOVE ID, Password, Stove Nickname and age; - with your SNS(Facebook, Google, Twitter, Apple) or Guest(Google Play Games, Apple Game Center) account:Identifier associated with your SNS or Guest account, STOVE Nickname and information you choose to provide to us, such as email address, name, profile, etc. • Data collected when you use our Services or the Websites: - service usage records, improper use records, login records, payment records, IP information, country, PC specifications information and device information(OS, model name, identifiers such as UUID, advertising identifier); • Data collected when you contact our customer services: - your STOVE Account Login Information, STOVE Nickname, PC specifications information and email address; • Data collected when you make a payment for part of our Services: - your payment records (payment amount, name of product, payment date, order number, etc.) by the payment service provider and mobile app market that you use to make such payment. • Data collected when you use the STOVE Studio as a Partner: - your name, email address, phone number, identity information, bank account and payment details, etc. ■ Why Are We Transferring the Data?Your personal data will be transferred for the purpose of effectuating the Merger, based on Merged Company's and Smilegate Holdings's legitimate interest to internally reorganize and thus promote enterprise value by enhancing management efficiency. We will only transfer the data which is strictly necessary for the described purpose. The data will be transferred to Smilegate Holdings's competent departments and will not be passed on or used for any unforeseen or unexpected purposes.■ How Will the Data Be Processed Post-Merger?Smilegate Holdings is committed to the safe management of the personal data transferred from the Merged Company in accordance with applicable laws and regulations, including the Personal Information Protection Act and the General Data Protection Regulation, and will use and process the transferred data only within the same scope and for the same utilization purpose as the Merged Company prior to Merger (currently available at: http://terms.onstove.com/privacy_policy_en/index.html?date=20201125). Details on the personal data processing following Merger are provided in the Smilegate Holdings's privacy notice. ■ What Rights Do You Have?You have the right to object to the processing of your personal data based upon our legitimate interest or other legal authorization recognized in your jurisdiction. If you do not want your personal data to be transferred as part of the Merger, please contact: - Business Support Team - 82-1670-0399 - privacy_stove@smilegate.com We will handle your request promptly and diligently and inform you about the balancing exercise we performed to support processing based upon such legal basis.As recognized in your jurisdiction, you also have the right to access, rectification, erasure, restriction of processing and data portability with regard to your personal data, and you can lodge a complaint with a supervisory authority (as a rule, you can contact the supervisory authority of your usual place of residence). Smilegate Holdings will do the best to reward our members with more reliable service. Thank you. November 28, 2022Smilegate Stove, Inc.
9/27(THU) Change password function updated (completed)
Hello, This is STOVE.We've announced enhanced security system has been applied on change password function.Please refer to followed details from each environment you've used.■ Updated date - Mobile environment: enhanced function has been applied from PM 9:58 27/09/22 (KST)- PC environment: enhanced function has been applied from PM 10:42 27/09/22 (KST)■ Updated contents - Members need to verify their account by E-mail verification when they change their password. -☞ Go to how to change password ※ If your account hasn't verified yet, you can change your account after E-mail verification. We will do our best to serve you better service. Thank you.
wake up!!!! save SUPERTANK RUMBLE
[1]
what are you guys doing?you have created a fantastic game and you let cheaters destroy it?people can not log in for days, it is not updated long time...how do you expect to get profits out of it?#supertankrumble is the best game in google play store. do not let it get dead..
supertank rumble player (fnrjqovm)
I PLAY MANY YEARS SUPERTANK RUMBLE, STARTED ON 2018.I WRITE HERE TO COMPLAIN TO THE DEVELOPERS. IT IS A LONG TIME SINCE THEY ABBANDONED THIS GAME. THEY LEFT IT BE ALMOST DESTROYED BY CHEATERS AND HACKERS. WE HAVE WRITE ENDLESS REPORTS IN OUR COMMUNITY BUT IT SEEMS NOONE IS CHECKING IT ANY MORE.... THIS IS THE REASON WHY I WRITE HERE AND HOPE SOMEONE WILL SEE AND DO SOMETHING. MANY PLAYERS LEAVE THIS GAME BECAUSE OF THAT . I WOULD STOP PLAYING SUPERTANK RUMBLE TOO LONG TIME AGO BUT I HAVE NOT FIND A BETTER ONE. IT IS THE MOST CREATIVE GAME IN GOOGLE PLAY STORE AND COULD GIVE LOTS OF PROFITS TO THE CREATORS IF THEY PAID A MINIMUM OF ATTENTION.