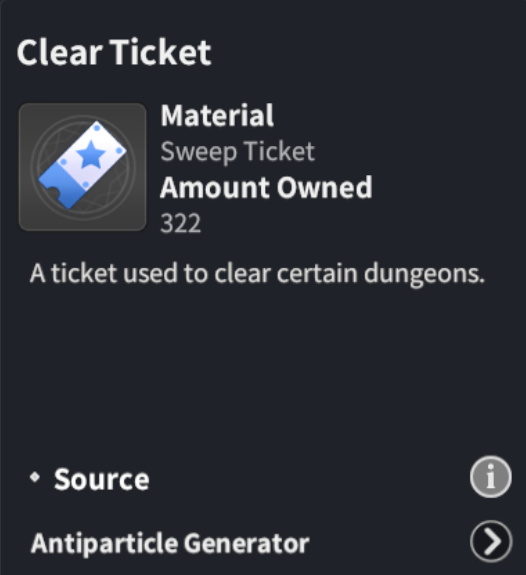 +12
[Unidentified Chimera] /PSGxNETORAR /ASIA II
Chimera Stage 10 Guide (For 1st clear, F2P newbies)This guide is to provide TIPS for those newbies just finished outerplane story mode with (1)limited gears and (2)limited heroes, and trying to clear Special Request:Ecology Study stage 10 for (3)the first time. If you do not meet the 3 conditions listed in bold (means you are probably end game player), the tip for you is to use this greatest invention that saves your time for you to touch some grass.Key team composition: Team 'GREEN'WHO and WHAT: RoleHealer DebufferSemi-DPSDPSHero key stats (used for this guide demo)high speedhigh speed & effectivenesshigh attackhigh attackTalisman: Please equip ANY talismans that regenerate Chain Points (CP) to your heroes, to make the run more stable.Skill level: Try to enhance the skills that deal damage to level 2 for extra Weakness Gauge (WG) damage to boss, to make the run faster.Equipment: Just use whatever the game provided so far, especially the Attack/Speed Set obtained from story mode or from Skyward Tower.WHY: Mono-element team good for CP regeneration per turn (which is buffed in latest patch).This team consisted of members with UNIQUE chain skill effect of regenerating X chain points after each chain burst, which are Noa (as Finisher) and Flamberge (as companion).Early game you have limited hero pools. Noa(3 star)/Dolly(2 star)/Flamberge(1 star) can be obtained from New Player Selector recruit, Rhona is free from login.Dolly is to inflict slow, reduced accuracy and attack down to Chimera, and Rhona is good for defense down debuff.HOW:Key is to tear down Chimera's WG as fast as possible and inflict break to him, before he acts for 5th turn and get Enraged, followed by his high damage burst.Arrange your heroes to use chain order sequence as below.1st stage just stall as much as you can by using only first skill to accumulate CP for 2nd stage.2nd stage when facing Chimera, ensure Dolly's debuffs landed successfully and you can just spam CP burst during Flamberge turn to deal ~20 WG damage per burst. You regenerate back ~60% of CP back each burst thanks to the unique chain skill effect from Flamberge and Noa. Repeat until Chimera dies. After that happy farming with Clear Tickets!(I let Chimera to use his burst after enraged, apparently not enough to one shot this team based on the stats provided. Can easily avoid this by spamming CP burst when it is enraged, dealing ~10 WG damage per burst, which I have around 5 bursts here).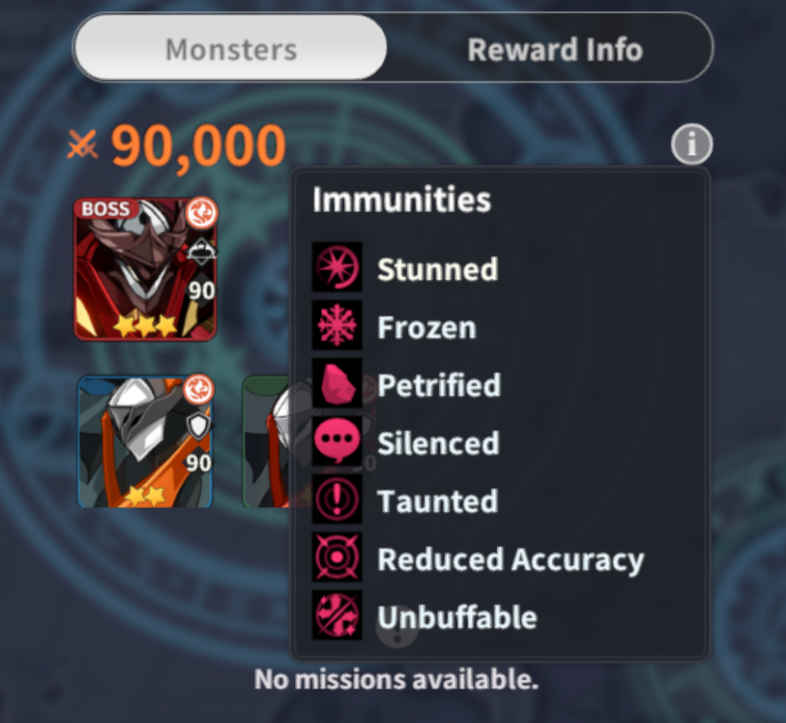 +2
Tips for all 3 Special Request: Ecology study/Justice/Asia I
* General Tips:- Always check for the boss immunities so you can use the best debuff for that boss- Check for the boss stats and skill (Important: Enraged Condition)- It's best to choose a team with adventages element if you can invest in a lot of hero. But you can use meta heroes as well ( you can check many tier list for Outerplane)Credits to: Exus Network Youtube channel- Since Ecology study have waves, you should farm as much chain point as you can before the Boss*Specific Tips- Masterless Guardian (Fire)+ Gear for High crits since non-crits attack reduce the boss Ultimate skill cooldown+ Use Valentine if you have her+ Because the boss reduce Weakness Gauge (WG) damage by 50%, use Eternal/ Laplace/ Dolly or other hero with debuff to inflict max WG damage+ Try to reduce the boss WG as low as you can but don't break him before he's Enraged. When you break the boss during Eraged, the Enraged state will reset so he can't use his Enraged Ultimate (its regular Ultimate cooldown still reduce with non-crits so keep your team healthy)+ Prioritize the minions when they spawn because the have debuff removal+ Some example teams: . Laplace + Valentine + Tio + Veronica/ Dolly . Eternal + Valentine + Tio + Laplace/ Noa/ Rin(Other Healer can still do the job well like Faenan or Saeran)- Tyrant Toddler (Water)+ USE NOA!! she will make your life so much esier+ The boss will applied Bleed and Poison to everyone for 9 turns after entering the boss wave (Tio can't remove this because her skill requires the debuff is inflict on the enemies turn) so bring Saeran or Faenan (it's best to lv up her Ult to give 2 turns immunity and use it before killing the last minion)+ The fight is pretty straight forward, use Noa to click on the boss+ Some example teams: . Noa + Saeran + Dolly + Rhona/ Veronica/ Valentine(if you have confidence in your damage) . Noa + Dolly + Faenan + Rhona/ Veronica- Unidentified Chimera (Earth)+ The boss reduced crit damage by 100% and Increased team crit chance to 100% so equip all units with Chain Point Recover When Critical as Talisman Special Gear and Speed gear if you can to build chain points as fast as possible+ The boss will atack twice when its Defense is increased so bring a hero with buff removal like Eternal if you can+ Just break it fast so you can deal more damage+ Some example teams: . Noa + Tio + Valentine + Eternal . Iris + Tio + Valentine + Eternal/ Saeran* These are some beginners tips for an easier boss fight. There are a lot of niche build and fun strategies to try so learn from other players or create something new yourself!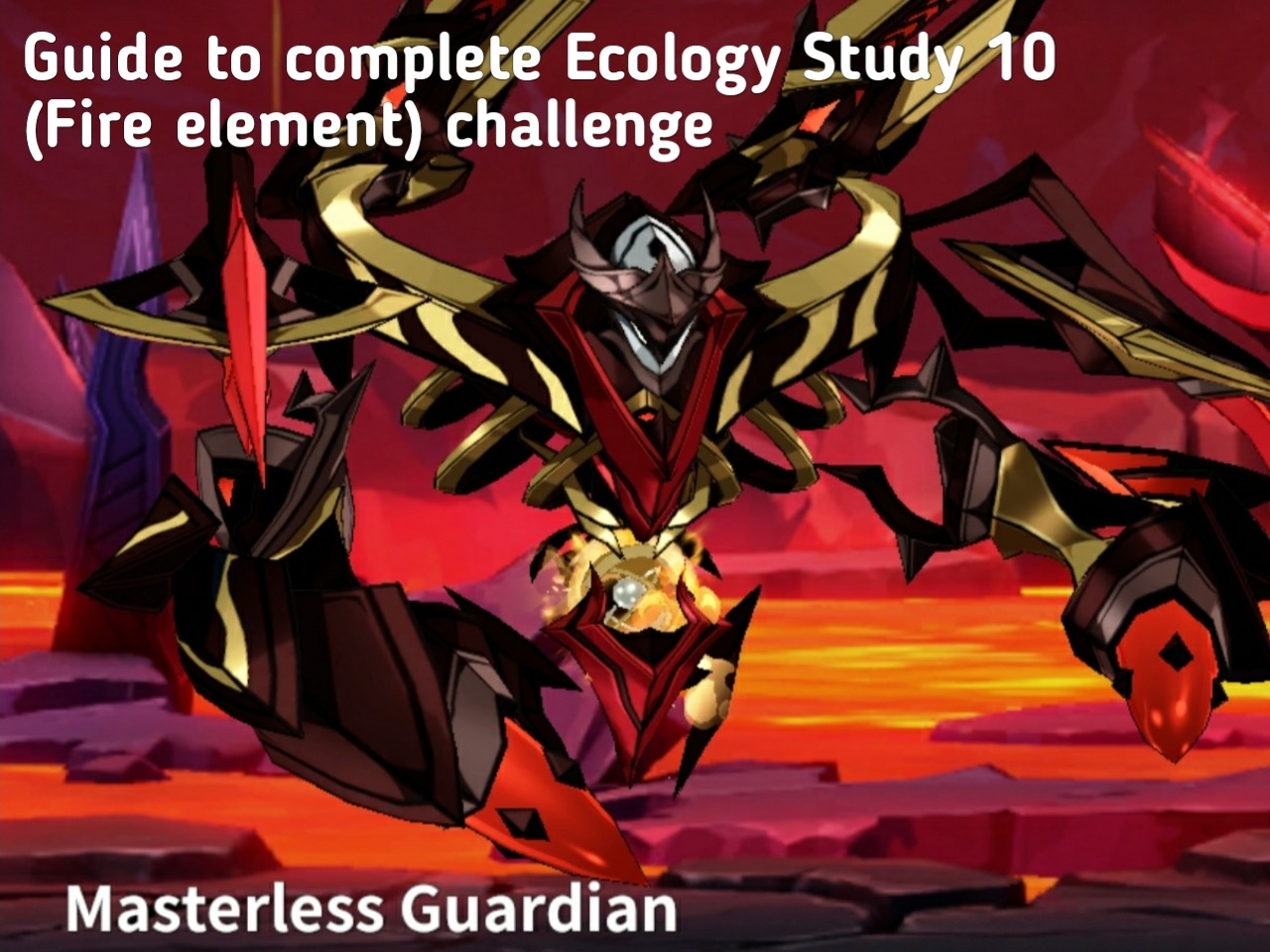 +8
[Special Request]/Aqua/Global
SPECIAL REQUEST: ECOLOGY STUDY STAGE 10 (FIRE ELEMENT) Get ready for an epic adventure in Ecology Study! We're diving into the fiery realm of the Fire element, where incredible rewards await. Imagine unearthing the hidden Lost Memory, equipping the powerful Self-Regenerative Plating, and stacking up that shiny Gold. Plus, you'll level up your Player and Hero experience like a pro! And guess what? We've got a killer Gear Set with all the bells and whistles - Attack, Critical Hit, Evasion, and Effectiveness. It's time to rock the battlefield in style! Oh, and let's not forget about the awesome Expert's Hammer, the ultimate tool for unleashing your skills. So, grab your gear, ignite your excitement, and let's embark on this thrilling adventure together!* Stage Rewards - Lost Memory - Self-Regenerative Plating- Gold- Player experience - Hero experience - Gear Set with Attack, Critical Hit, Evasion, Effectiveness (Random) - Expert's Hammer (Random)* Enemy Information1. MASTERLESS GUARDIAN• S1: Guardian Slash Attack an enemy. Deals increased damage if there is a mini guardian.• S2: Guardian CutterCooldown: 3 turn(s) Attack an enemies and summons 2 Mini Guardians. Mini Guardian remove 2 debuff(s) from attacking. Increase the Boss's priority by 20% and reduce the cooldown of Guardian Canon by 1 turn.• S3: Guardian Canon Cooldown: 9 turn(s) Deals a large amount of damage to all enemies. This attack increased defense penetration by 15% but damage is reduced if the caster is inflicted with debuffs.• PASSIVE: Reactive Armor Increases attack every turn. This effect can be stacked up to 20 times. If the caster not inflicted debuff when hit, reduce weakness gauge damage by 50%. If the hit was non-critical, Increase all allies priority by 15% and reduce the cooldown of Guardian Canon by 1 turn(s). Increase damage dealt to fire and earth character and reduce damage from them. Reduce damage dealt to water character and increase damage taken from them.• Immunity Info- Stunned- Frozen- Petrified- Silenced- Taunted- Reduce Accuracy- Unbuffable 2. DUNGEON GUARDIAN SPEAR-WIELDER (ELITE)• S1: Pile Bunker Attacks an enemy. This attack penetrates 15% of the target's Defense.• S2: Dual BunkerCooldown: 2 turn(s) Attacks an enemy. This attack penetrates 15% of the target's Defense.• PASSIVE: Restraint Program Upon death, recovers 50 Action Points and 4 Chain Points for each remaining enemy. Has a 20% chance to inflict Stunned on the target for 1 turn(s) when attacking.• Immunity InfoNone3. DUNGEON GUARDIAN SPEAR-WIELDER (COMMON)• S1: Pile Bunker Attacks an enemy. This attack penetrates 15% of the target's Defense.• Immunity InfoNone* Team Composition1. Rin With her relentless critical strikes, Rin becomes the perfect ally to counter the enemy's passive skills and maximize damage output by exploiting elemental weaknesses.2. Laplace For added resilience, Laplace possesses skills that debuff enemies by reducing their attack and speed. Additionally, Laplace can provide a protective barrier to the entire team.3. Eternal To unleash maximum damage, I enlist the aid of Eternal, whose abilities allow them to decrease the defense and speed of all enemies. As Eternal's debuffs have a prolonged duration, they effectively counter the enemy's passive skill, which reduces damage to the weakness gauge by 50%.4. Tio Tio serves as a vital support member, adept at healing and boosting the team's defense, thereby ensuring our survival amidst the heat of battle.// Alternatively, you can replace Eternal with a formidable buffer like Valentine to further augment the strength of your team.* Strategy & Tips Prepare to embark on the thrilling Ecology Study challenge, featuring two action-packed rounds in its stage. The first round unveils a trio of adversaries: two common enemies and one elite foe. Utilize this opportunity to accumulate chain points, facilitating a seamless transition to the epic encounter with the boss. If you manage to vanquish the elite enemy in the first round, you shall be rewarded with 50 action points and 4 chain points for each surviving your team member. Brace yourself for the climactic second round, where the boss awaits. Employ a tactical approach by inflicting debuffs upon the boss while launching devastating critical strikes to counter their formidable passive abilities. As the boss takes its inaugural turn, expect an onslaught with the formidable Guardian Cutter, as elucidated above.It is imperative to neutralize the Mini Guardians before the boss takes subsequent actions. Upon the boss's third turn, a surge of rage engulfs them. Capitalize on this moment by ensuring the boss falls victim to debilitating debuffs. Should the boss remain unaffected, swiftly administer debuffs during your debuffer's turn and employ chain skills to shatter the boss's defenses before they unleash the dreaded Guardian Canon. However, if the boss successfully executes this move, promptly apply debuffs to mitigate the impending onslaught. Once the boss is incapacitated, seize the opportunity to unleash an unrelenting torrent of damage, leaving them in ashes and securing victory for your team. Now that you're armed with knowledge, strategies, and an unyielding spirit, go forth and conquer the flames of Ecology Study! May your journey be filled with triumph, camaraderie, and unforgettable adventures. Embrace the challenge, ignite your determination, and emerge victorious as the ultimate champion of the Ecology Study!