The Stylish Fantasy World
Hello there, Wizards! GM Lizzy dropping in!
Complete missions and earn various rewards in this amazing Autumn event!
Check out the details below and complete daily missions to receive rewards every day!
◈ Event Details
- Event Period: 9/14 (Thu) 02:00 ~ 10/4 (Wed) 06:00 UTC
- How to Participate: Tap on [Event] in the Lobby screen, then on the [Autumn Harvest Mission Event] banner.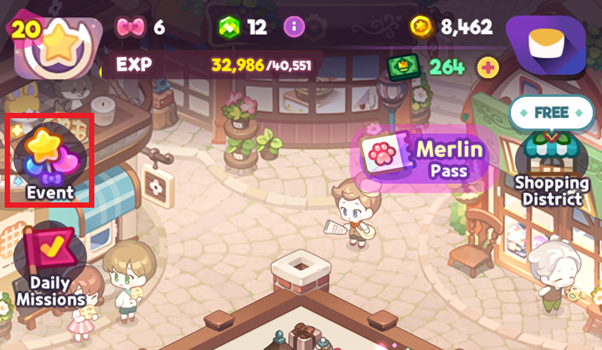 ◈ Autumn Harvest Mission Event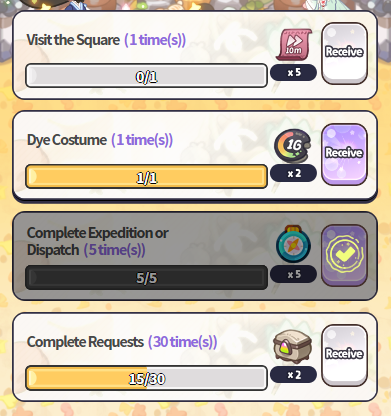 | | |
| --- | --- |
| Missions | Reward(s) |
| Visit the Square 1 time | Fast-Forward: 10 Min x5 |
| Dye Costume 1 time | 16-Color Dye Ticket x2 |
| Complete Expedition or Dispatch 5 times | Compass x5 |
| Complete Requests 30 times | 2★ Witches' Gem Box x2 |
1) Check out the four mission details every day to receive daily rewards!
2) Completing a mission will activate the [Receive] button!
3) Tap on the activated button to receive the rewards in your mailbox!
4) The missions and rewards will reset at 15:00 UTC every day, so don't forget to participate daily!
◈ Please Note
※ All rewards from this event will be sent to your mailbox.
※ Please request a 1:1 Inquiry via [Customer Support] if you have any questions regarding the event.
That's it for today! I'll be back with more fun content soon!
Thank you.
I'm looking forward to the event 💖
I love events and event rewards period! The more events, the better!
Some people don't like one time only events, and they prefer if the events come back eventually.
I'm grateful for beautiful things to do in the Autumn weather! That makes me so happy 💖🍂🍁🍁🍂💖