guild
#guild hey guys i am part of a guild that no one is active in. i am new and just joined a random one. but no members were active and i was appointed guild master. there is absolutely no option for me to leave, i only see "manage guild" i really want to leave and join an active guild. please help. my username is lilithx3.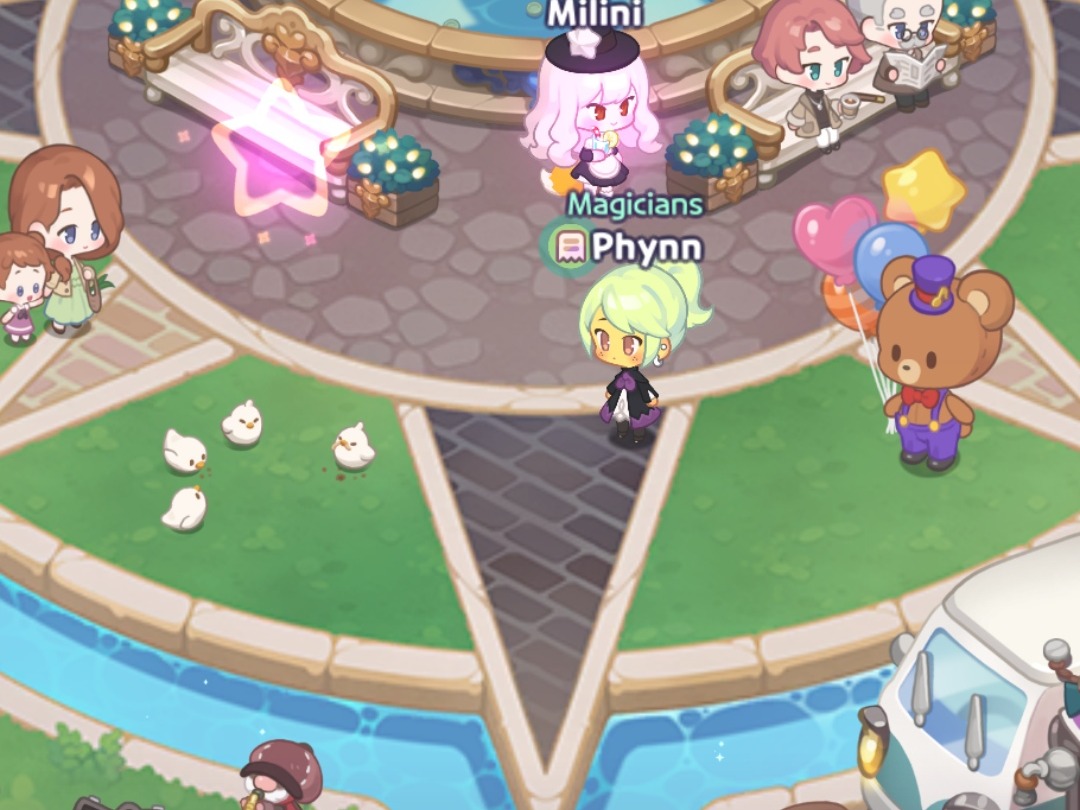 Global server, user a f k for a month in square
There is a user in Global server, ch1. Square who has been a-f-k 24/7 for the past month or longer with player name 'Phynn'.The player is always showing with requests for 2x jobs but when you try to fulfil the request, it gives error saying the requests are invalid or something All same requests, any time of the day 24/7 in world Square ch.1, same user, never moved and never disconnected since I started playing and longer.Can a GM check the game once in awhile and force disconnect bugged users? Honestly an eyesore at this point.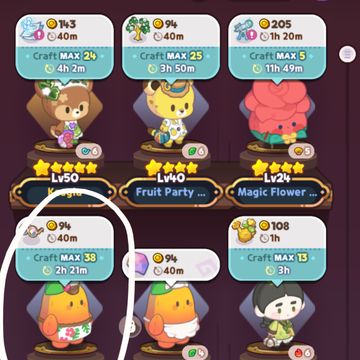 +1
Install Element BUG
🙇🏻🙇🏻I have also put this question on the discord Helppage.Hi there, I am one of the global server player of MA. Early this day(est.9/23/2022,Fri) I have finally get my Fire Charm +6 assembled. And I use this for installing my prepared-4 stars-doll which name is mango, I have cleaned it original element so I can found it more easily. As the time the game shows that the element has successfully installed to the doll and surly I think it made it, mango shows up in my dollhouse still not yet been install any charm and remain the no elemental energy situation. And the fire charm +6 item has also disappeared in my material stock. It is really important to me since I have made lot of effort on it. For me this charm is really expensiveI want to know what it happened and whether I can get the item back asap. 😦I have attached my personal account message and the doll mango with no element installed pics in the attchement. Hope the worker could help me find the my game log to see what's going on and I can get my fire charm+6 back.Thank you for helping and reading.🥲🥲
Impossible to get gems
It is impossible to get gems in expeditions and dispatches, and it seems like the game really requires me to have a lot for essential upgrades. I haven't gotten a single gem from expeditions/dispatches. I am doing everything (good dolls & doing them regularly)I am currently level 19, maybe that's why? Or maybe it's the event materials preventing gems from dropping. Still, please improve gems accessibility, this is abysmal. #help #support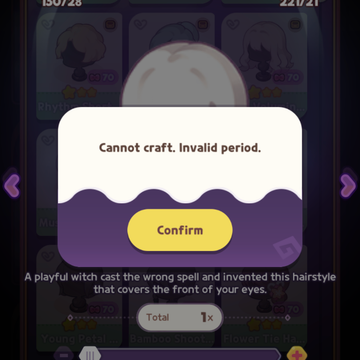 From Codex to K&Q Workshop Bug
Thought it is worth mentioning for people that likes to craft and complete a collection.**How to replicate this error**This error occurs only when I want to see the item from Codex -> Collection (Costume) by pressing the tiny arrow of the item to the specific item in Theme Costume. It shows me as shown in the image "Cannot craft. Invalid period."**Solutions until devs fix it**The two solutions are to restart the game or use Parts Costume instead of Theme Costume although that'll take a while to scroll or recall the item's name. Hope this bug gets fixed because it's odd that it happened…
The game closes when I open advertisement.
Hello, I play globally and I'm Brazilian. I downloaded the game from the Brazilian google store and have been playing since launch day actively.Since the launch, my boyfriend and I have had a lot of difficulty making content that involves seeing advertising. And there are days that we end up losing the prizes that are around it, or we even miss a few days of events that asked us to see advertising.I'm part of the SweetRoll guild, and they play for the American store. And they said you guys fixed this problem for their launch. Please also tidy for the Brazilian store. There are several Brazilians playing as well, exclusive guilds of Brazilian players that are well positioned in the global. We really want to have the full game experience like everyone else is having.
Giving gifts causes game to freeze
Hi, how are you?Unfortunately I am experiencing an error wherein I go to gift the villagers a gift using the 10 bucks specialty gift option, and the loading indicator keeps rotating but nothing loads. I have to force close the game because it never loads the scene like it's supposed to.I have checked my internet connection and I also tried to clear my cache. Neither of those actions worked sadly. My connection was fine. ;;I hope to receive some help so I can gift again? Thank you!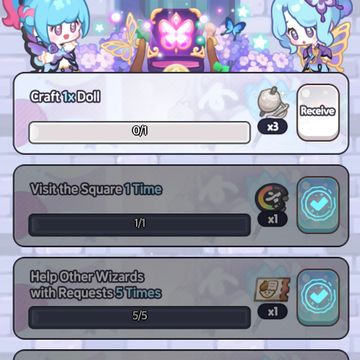 Magic Training Event Bug (Craft x1 Doll)
[3]
#bug_report #bug Many people are having issue with completing this mission. Someone already commented on Magic Training Event post but it doesn't look like GMs read comments unless posted in Bug Reports.We couldn't get the rewards even after finishing making Dolls. Please fix it and provide compensation for not fixing it since the event started.Edited: I'd like to add on that even if you want us to send you 1:1 Inquiry through your Customer Service link, I literally cannot make any inquiries since your Customer Service is still nonexistent. No buttons or anything indicating me to send you one, making communication impossible let alone making posts.
Lately the games seems slow
I love this game very much! Its adorable! However i notice a certain lag in activities. For me it was first only with the minigames which is fine. But now it is also if i go into my storage and for instance when i want to change the interior of the shop. Can you please look into it?
Magical Atelier Customer Service 1:1 Inquiry do not exist.
[4]
If you are reading this GMs,If we have an issue, you'd tell us to request 1:1 inquiry with you. However, nowhere does it show that allows to make an inquiry. It shows empty and only headings are shown, making our inquiries impossible to get sent to you.Please take note into this. I am from USA and I keep using STOVE Customer Service instead of Magical Atelier Customer Service. Please fix every description on sending inquiries to you.At least have a "I need help!" Button and allow us to fill out the inquiry form before sending to you. If you have your Magical Atelier customer service email, it is worth mentioning it in every post.You are very responsive to Google Play reviews, but lacking support for Apple side. How will we send you an inquiry specifically for Magical Atelier (and not STOVE customer service itself).Thank you for reading this.
[server Asia] My friend Albuqueque got his account deleted by accident, help!
[5]
For some reason I can't make a direct inquiry on the Customer service page so I'll report this issue here instead.My friend (character name: Albuqueque) from server Asia of the game has his account deleted accidentally because his young nephew messed up with his device. He was a very active player with a high level account (lv62) as seen in the screenshot attached below, and he was in Lafayette - one of the top 10 guilds in Asia server.As this incident is unwanted, we as his friends and his guildmates all hope that he can get his account back. We believe he also sent an inquiry regarding this matter, please do help him check it out!
I can't enter the game. I updated the game but I can't open it.
Please help, after updating the game I couldn't get to load the additional downloads since it exits the app after just a few seconds opening the game. I reinstalled just the game yesterday (which is the second time) but still couldn't get to download the additional things that needs to be downloaded. PLEASE and Thank you!
Red Lotus Badge Description
I received a request for 'Red Lotus Badge' in my list & I was so confused for a while as to where it is (searched through all the other books), because unlike other elemental master items, this one doesn't state that it is a fire elemental master item. Please fix it :)