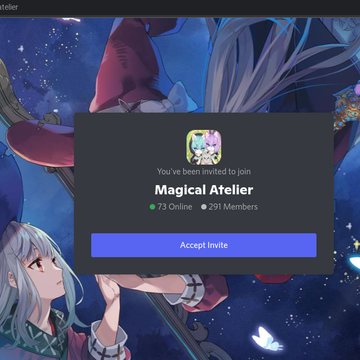 come join Magical Atelier discord!
Come and join our Discord for All Active Players of the Game! discord.com/invite/msfpmpcZqtWe are not Official Dev/company staff of the game, just players who have passion for the game.There's are Lots of Events ,where you can earn money. Find guides and other Active Players to interact. We will be expanding the Server soon to other parts of gaming community! So even if you not active , come stay with us and have fun!欢迎大家加入我们的discord服务器!有赚钱的活动,游戏指南和来自所有地区的其他活跃玩家!誰もが私たちの不和サーバーに参加することを歓迎します!他の会話の中でも、参加するイベント/ゲームガイド!누구나 디스코드 서버에 가입할 수 있습니다! 돈을 벌 수 있는 이벤트, 게임 가이드 및 모든 지역의 기타 활성 플레이어가 있습니다! #Discord #MagicalAtelier #Players #active
+1
Please GM read this before it's too late!
[5]
Help my friend problem account. His Acc got deleted by mistake from the game (not him).He have make a report to you in the first 24 hours, but you guys seem like not respon to him as fast as you can.Hope you read this GM. Help my friend Albuqueque, he spent a lot of money for this game and an super active player as well.Help us, help my friend for a better service.#Help #customerservice #respon #deleted #account #GM #private
SUPERTANK RUMBLE PLAYER (tag fnrjqovm)
I HAVE NEVER PLAY MAGICAL ATELIER , IT IS NOT MY KIND OF GAMES. I PLAY MANY YEARS SUPERTANK RUMBLE, ALSO A GAME OF SMILEGATE.I WRITE HERE TO COMPLAIN TO THE DEVELOPERS. IT IS A LONG TIME SINCE THEY ABBANDONED THIS GAME. THEY LEFT IT BE ALMOST DESTROYED BY CHEATERS AND HACKERS. WE HAVE WRITE ENDLESS REPORTS IN OUR COMMUNITY BUT IT SEEMS NOONE IS CHECKING IT.... THIS IS THE REASON WHY I WRITE HERE AND HOPE SOMEONE WILL SEE AND DO SOMETHING. I HAVE READ YOUR COMPLAINS TO THEM ABOUT THIS GAME,AND BELIEVE ME IT IS NOTHING COMPAIRING TO WHAT WE ARE GOING THROUGH.I WOULD STOP PLAYING SUPERTANK RUMBLE LONG TIME AGO BUT I HAVE NOT FIND A BETTER ONE. IT IS THE MOST CREATIVE GAME IN GOOGLE PLAY STORE AND COULD GIVE LOTS OF PROFITS TO THE CREATORS IF THEY PAID A MINIMUM OF ATTENTION.