Events
[Closed] Rift Update Celebration Quiz Event! [4.7K]

Hello, Heirs! This is GM Dominiel!
We've introduced new content, Rift, where you can obtain Equipment sets you desire!
Keep your friends close and your enemies closer!
Before you embark on a Rift challenge, why not familiarize yourself with the new content, Rift?
Learn more about the Rift on the 10/19 (Thu) Update Content and join the Quiz event!
■ Rift Update Celebration Quiz Event! Event Details
1. Schedule 10/20 (Fri) ~ 10/25 (Wed) 14:59 UTC
2. Eligibility: All Heirs in Korea, Asia, Japan, Europe, or Global server
3. Details: Please leave your quiz answer in the comments section, following the format below.
ㄴ Comment Format: Server / Nickname / Answer (ex. ①, ②, ③)
4. Rewards: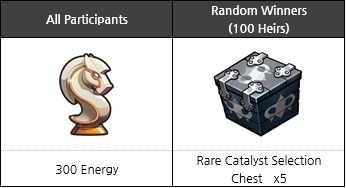 5. Winners Announcement and Rewards Distribution 10/27 (Fri)
■ Quiz
If you know the answers to the three questions below, please respond in the comments along with your server and nickname:
1. What is the correct image of Defect Terminator Zeaon from Rift Season 1 - Zeaon of Zero-Defects City?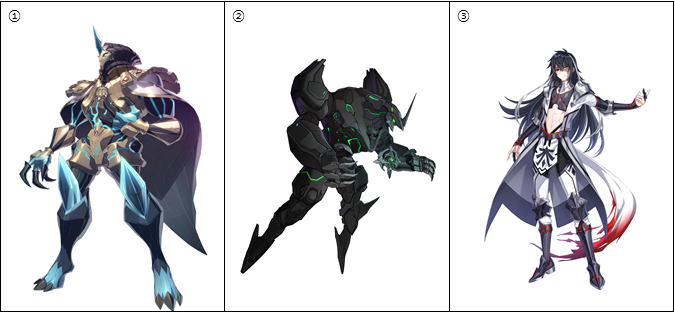 2. Which elemental Heroes are permitted in Rift Season 1 - Zeaon of Zero-Defects City?
1) Fire
2) Ice
3) Earth
4) Light
5) Dark
3. Choose the accurate unlock condition for entering Rift Season 1 - Zeaon of Zero-Defects City.
1) Acquire the Guardian, Zeaon
2) Specialty Change Ras to Adventurer Ras
3) Clear 10-10. Shrieking Hall in Episode 1
4) Clear 2-2. Forsaken Wilds in Episode 5
※ Please Note
- This event has been conducted in accordance with the [Event Regulations].
- Players can participate in this event on official Epic Seven STOVE Community, and all Heirs who followed the comment format will be accepted and receive the rewards.
- Duplicate entries are allowed. However, winners cannot win more than once and only the account information provided at first will be accepted.
- Please leave your in-game name and server of the account used to play Epic Seven in the comment.
- Any unrelated posts that are posted on the board will be deleted or moved without any prior notice and will not be accepted to the event.
- Players who delete the comment before the reward distribution, will not be able to receive rewards and their participation will be canceled.
- If you change your nickname after participating in the event, you may not be eligible for rewards.
- If it is confirmed that your submission was not legal, you prize may be canceled.
- Your in-game reward will be delivered to your mailbox. (Storage Period: 7 Days)
- For any inquiries regarding this event, please contact our STOVE community or Customer Support Team.
It seems that many of our Heirs are already well-informed about the quiz questions!
If you've answered all of them correctly, why not try the Rift Clear Screenshot event?
Rift Update Celebration Screenshot Event (LINK)
We hope many of our Heirs express interest in and participate in this new content, Rift.
Thank you.

Global / Septavius / 2, 1, 4
Europe / katdog9 / 2, 1, 4
Europe / Tengaar31 / 2, 1, 4
Global / jiaaan / 2, 1, 4
Global / SrDestyno0 / 2,1,4
Global / SupaSean / 2, 1, 4
Global / CaIaMEliZas / 2, 1, 4
Global / pwdPOG / 2, 1, 4
Global / eReyes / 2, 1, 4
Global / LuciIla / 2, 1, 4
Global / Kaidam / 2, 1, 4
Global/ SakuraSnowy/ 2,1,4
Global / Lokked / 2, 1, 4