[GM] 3/20 (Mon) Epic Seven Client Update Distribution Notice (Amazon Distribution)
2023.03.20 02:06 (UTC+0)
7136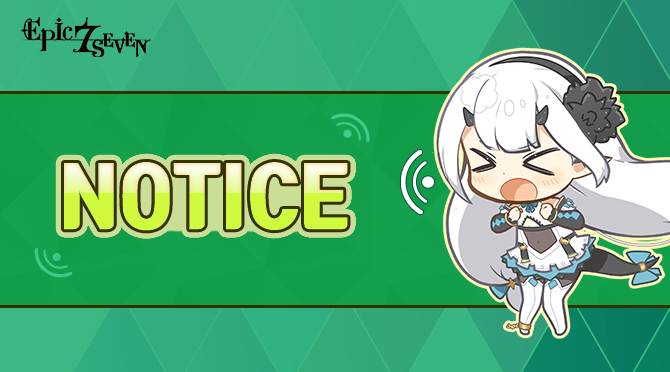 Hello Heirs,
This is GM Dominiel.
- (Added) An Amazon Appstore app update is distributed on 3/20 (Mon) 03:21 UTC.
---
An Android app update will be distributed on 3/20 (Mon) to resolve an issue in Epic Seven.
Please see below for more detailed information.
■ 3/20 (Mon) Epic Seven Client Update Distribution
1. Schedule: 3/20 (Mon) 02:00 UTC
2. Affected Market: Google Play Store, Huawei, MyCard, Amazon (Added)
3. Details: An app update (v 1.0.641) will be distributed to resolve an issue where Epic Seven does not work normally on certain Android OS.
※ Please Note
- Please download and install the latest client update from each store.
- The client update may appear at different times depending on the device type.
※ If the update does not appear in your store, please see below:
[Android]
① Go to [Google Play > Menu > My Apps/Game] and tap the update button.
② Go to [Settings > Applications > Google Play Store > Storage > Delete Cache]
③ Search the app directly on Google Play and click the Update button.
- Players may see different menus depending on OS versions and devices.
You can still play Epicseven without installing this update.
We promise to do our best to provide an even better service to all of our Heirs.
Thank you!
STOVE 추천 컨텐츠
2023.06.05

2023.06.05 05:50 (UTC+0)

2023.06.03

2023.06.03 06:44 (UTC+0)

2023.06.03

2023.06.03 06:02 (UTC+0)

2023.06.02

2023.06.02 04:12 (UTC+0)

2023.06.02

2023.06.02 01:39 (UTC+0)

2023.06.01

2023.06.01 17:02 (UTC+0)