[Winners Announcement] Epic Crossword Event
2023.02.08 05:00 (UTC+0)
3009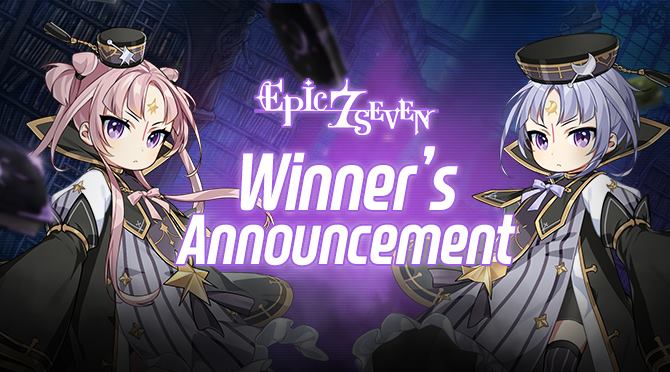 Hello Heirs!
This is GM Dominiel.
Did you enjoy solving the crossword? We hope you did!
Check the image below to see the answers to the crossword!
■ Epic Crossword Event Winners Details
1. Schedule: 1/27 (Fri) 05:00 ~ 2/2 (Thu) 14:59 UTC
2. Eligible participants: All Heirs on the Korea/Asia/Global/Europe/Japan Servers
3. How to participate:
i) Solve the Epic Crossword.
ii) Leave your answers in the comments below.
iii) Leave your [Nickname/Server/Epic Crossword Solutions] in the comment section below.
iv) Get at least 3 answers correct to receive a participation reward.
4. Comment Format: [Nickname/Server/ Epic Crossword Solutions]
5. Rewards:
- Heirs who got three or more correct answers: Leif x3
- Lucky Reward: 2023 Epic Seven Diary Pack
6. Reward Distribution: 2/8 (Wed)
ㄴ Offline rewards will be distributed within March
■ 2023 Epic Seven Diary Pack Winners (10 Heirs)
| | |
| --- | --- |
| Server | Nickname |
| Global | LanhWilof |
| Global | Ilyes |
| Global | epic7#og15nc |
| Global | きょし |
| Europe | Dreamshade |
| Asia | 橘貓油條 |
| Asia | 夢終會醒 |
| Asia | 小福獸 |
| Asia | MeowLord17 |
| Korea | 수페코 |
■ Personal Information Collection to Deliver The Winner's Prize
We will collect your personal information to deliver the winner's prize.
1. Schedule: 2/8 (Wed) ~ 2/28 (Thu) 14:59 UTC
2. How to enter: Click the link below and enter your information
▶️ New Year's Resolutions Event Winner Registration

※ Please Note
- This event was conducted in accordance with our Event Regulations as outlined on our official website.
- Event participants must be 20 years old and above.
- Winners residing outside of Korea are asked to fill out their address information in English.
- If the event participation information does not match the actual game information, rewards may be canceled.
- Players who write incorrect in-game account details when participating in the event, will not be able to receive rewards and their participation will be canceled.
- If it is confirmed that your submission was not legal or that you participated in any fraudulent manner, your winnings may be canceled without notice.
- Players must get at least three answers correct to receive rewards.
- In-game event rewards will be sent to your in-game mailbox. (Expires after 7 days)
- The offline prize for the event will be delivered after the winner's personal information collection is completed. (Within March)
- Be sure to fill in the delivery information correctly to receive the prize within the deadline.
- If you do not enter the information within the scheduled period or if the information is incorrect, you will be considered to have given up the chance to win. (Extra Shipping will not be possible)
- Due to COVID-19, there may be a delay regarding when certain rewards are delivered, or the reward may be changed.
- In case delivery will not be possible due to international restrictions, we may deliver the package once the situation has improved.
- Depending on the circumstances the prize may be delayed or changed into an item with the equivalent value or a different item. In case delivery will not be possible, the prize may be changed into an in-game item.
- In the case of the prize for the event, customs clearance charges may be charged depending on the type of product. If the winner does not want to pay for the amount, the product will be returned.
- Please contact the [Epic Seven Customer Team] for any questions about the event.
We hope that you achieve all the goals you set for this year!
Thank you.

STOVE 추천 컨텐츠
2023.05.31

2023.05.31 07:54 (UTC+0)

2023.05.31

2023.05.31 02:58 (UTC+0)

2023.05.31

2023.05.31 02:05 (UTC+0)

2023.05.30

2023.05.30 18:36 (UTC+0)

2023.05.30

2023.05.30 16:59 (UTC+0)

2023.05.30

2023.05.30 09:07 (UTC+0)