[Closed] Ken & Samsara Prayer Beads Drop Rate Up
2023.01.18 10:30 (UTC+0)
1544

Hello, Heirs!
This is GM Dominiel.
In this Drop Rate Up event, meet the Fire elemental Warrior, Ken, who can inflict a wide variety of debuffs, as well as large amounts of damage using his unique vigor effect and the Warrior-exclusive Artifact, Samsara Prayer Beads that increases damage dealt when using a Single Attack and decreases damage suffered when attacked by a Single Attack!
■ Drop Rate Up Event Information
1. Schedule: 1/19 (Thu) after the maintenance ~ 1/26 (Thu) 02:59 UTC
2. Details: The 5★ Hero, Ken, and the 5★ Artifact, Samsara Prayer Beads will have a higher drop rate.
■ Guaranteed Summon System
1. Each summon will cause the summon counter to decrease by 1. (Maximum 120 Summons)
2. If a player does not receive the featured Hero after 120 summons, then the following summon is 100% guaranteed to summon that hero.
3. If the featured Hero is summoned, then the Summon Counter is reset.
■ Summon Probability
Hero

Artifact

46.75%

53.25%

5★ Hero Ken

1%

★5 Samsara Prayer Beads

1.05%

5★ Artifact

0.7%

4★ Hero

4.5%

4★ Artifact

6.5%

3★ Hero

41.25%

3★ Artifact

45%
※ Players may check more detailed summon probability by going to Summon Ken & Samsara Prayer Beads Drop Rate Up Banner.
※ Please Note
- The Drop Rate Up applies only to this Banner during the event period.
- Players are able to use both the Guaranteed Drop Rate Up Banner as well as regular covenant summons.
- Moonlight Heroes will not appear during Guaranteed Drop Rate Up banners.
- The featured 5★ Hero will have their probability rate increased to 1% when summoning on this banner and no other 5★ Hero can be summoned.
■ Hero Introduction

■ Artifact Introduction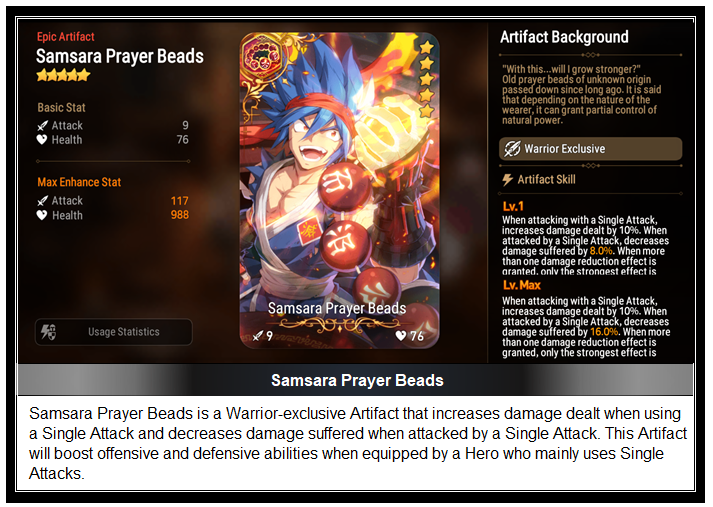 Thank you.

STOVE 추천 컨텐츠
2023.02.01

2023.02.01 11:00 (UTC+0)

2023.01.31

2023.01.31 15:23 (UTC+0)

2023.01.31

2023.01.31 14:55 (UTC+0)

2023.01.31

2023.01.31 03:44 (UTC+0)

2023.01.30

2023.01.30 17:52 (UTC+0)

2023.01.29

2023.01.29 18:09 (UTC+0)