[GM] 11/16 (Wed) Epic Seven iOS Client Update Distribution Notice
2022.11.16 06:00 (UTC+0)
4718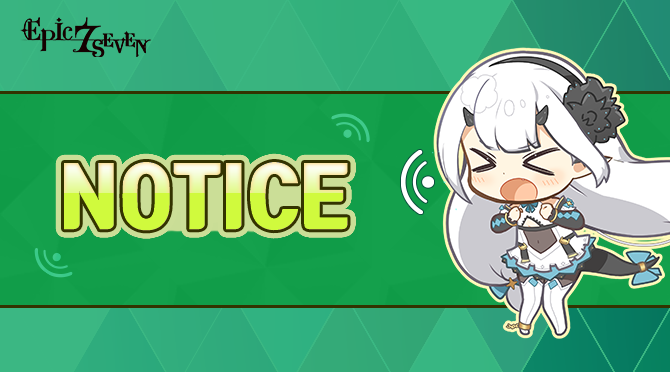 Hello Heirs,
This is GM Dominiel.
As we announced through the iOS In-AppPrice Adjustment Notice released on October 5, Epic Seven will receive an iOS client update.
Please see below for more detailed information.
■ 11/16 (Wed) Epic Seven Client Update Notice
1. Schedule: 11/16 (Wed) 06:00 UTC
2. Affected OS: iOS
3. Details: In order to apply the iOS in-App price adjustment due to changes in Apple's App Store Price Policy, a client update will be applied (version 1.0.583)
※ Please Note
- The latest client update can be downloaded from the App Store.
- The appearance of the client update may vary depending on your device.
- After adjusting the iOS in-App price, the displayed in-game price and the actual purchase price may differ. In this case, the payment will be made at the price displayed on the App Store's purchase approval window.
※ If the update does not appear in your store, please see below!
[iOS]
① Please search for [Epic Seven] in the App Store and download the client update.
② If the latest update does not display in your app store, please restart your device and check again.
※ The menu may vary depending on the device model and OS version.


We promise to do our best to provide an even better service to all of our Heirs.
Thank you!
STOVE 추천 컨텐츠
2022.11.25

2022.11.25 06:18 (UTC+0)

2022.11.18

2022.11.18 00:55 (UTC+0)

2022.11.15

2022.11.15 07:33 (UTC+0)

2022.11.14

2022.11.14 01:24 (UTC+0)

2022.11.13

2022.11.13 22:56 (UTC+0)

2022.11.09

2022.11.09 01:14 (UTC+0)