10/27 (Thu) New Equipment Sets and In-game Adjustments [22]
2022.10.26 09:00 (UTC+0)
18265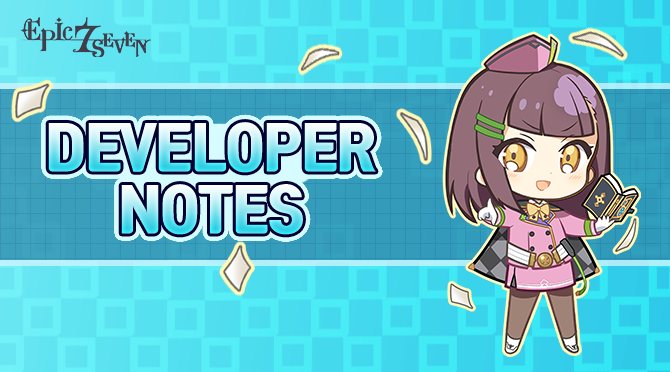 Hello. This is Epic Seven.
In the 10/27 update, some changes will be made to the game, including adjustments to the Unity Set.
In addition to the changes mentioned in the 10/27 Update Improvements Preview Notice, this Developer's Note will provide additional information about the in-game changes that will be made.
■ Two New Sets of Equipment
As introduced in Merurin's Express Mail released on 10/25(Tue), two new sets of Equipment will be added with the 10/27(Thu) Update.
[New Equipment Set Information]
| | | | |
| --- | --- | --- | --- |
| Set | Where to Acquire | Required Parts | |
| Protection Set | Golem Hunt | 4 parts | At the start of battle, grants a barrier equivalent to 12% of the caster's max Health to all allies for 2 turns. |
| Torrent Set | Caides Hunt | 2 parts | Decreases Health by 10%, and when attacking, increases damage dealt by 10%. |
While the introduction of new sets will bring positive aspects to battle, it may also reduce the usability of the existing Equipment Sets. As a result, the two new sets are designed to maximize the abilities of Heroes who have little synergy with the existing equipment sets.
First, we have the Protection Set whose effect activates with 4 parts equipped. It can be widely used on Knights, Soul Weavers, and Warriors who are limited from having high Speed. The set protects allies in PvP when equipped on Heroes who have high Health.
Next, we have the Torrent Set whose effect can be stacked. The Torrent Set can help Heroes to effectively build their attacking ability. It is especially beneficial for those who haven't been fit to use the Critical Set or Penetration Set, as it increases damage-dealing ability while sacrificing a little bit of health. This set may be more appealing to Heroes with less Health disadvantage than others or strong AOE skills. It is also possible to minimize the disadvantage by wearing both the Torrent Set and Health Set simultaneously.
■ Untiy Set Adjustments
| | | | |
| --- | --- | --- | --- |
| Set | Required Parts | Before | After |
| Unity Set | 2 Parts | Increases Dual Attack chance by 4%. | Increases Dual Attack chance by 8%. |
■ Base/Max Dual Attack Chance Adjustment
As the effect of Unity Set has increased, the base/max dual attack chance will be adjusted.
1. The base Dual Attack chance will be decreased ( 5% ▶ 3%)
2. The max dual attack chance will be increased (20% ▶ 30%)
Dual Attack has been one of Epic Seven's unique features since launch, with all Heroes designed to have a 5% to 20% base dual attack chance. Our original intention was to make the battle more exciting by creating multiple variables. However, in the current meta, dual attacks that occur once or twice have more impact than we intended, which can completely change the tide of battle.
Therefore, we decided to reduce the base dual attack chance from 5% to 3%. However, to make Dual Attack and relative team composition more strategic, the max dual attack chance and the Unity Set effect will be increased. We hope these changes help you maximize your intention via your Hero Equipment setting, rather than relying entirely on luck for Dual Attack to trigger.
■ World Arena Battle Frenzy Adjustments
Adjustments will be made to Battle Frenzy for the World Arena Triumph Season as shown below.
1. Base effect depending on Battle Frenzy level: No Change
2. 30% Damage Reduction effect depending on Elemental Advantage (Covenant Heroes Only): No Change
3. Final Speed Increase by 7 for Soul-Weaver: Removed
4. Final Speed Increase by 7 for Mage: Added
5. Max Battle Frenzy Level decreases from 8 turns to 7 turns.
Battle Frenzy effects that differ by level will be maintained in the Triumph Season.
Additionally, the Damage Reduction effect applied to Covenant Heroes when attacked by Heroes with elemental disadvantage will also be maintained. We carefully reviewed expanding the content that this effect applies to from the World Arena to the entire game. However, considering the usability of Heroes in other content can change significantly with this change, we will take more time to carefully review this before expanding it.
As previously announced, increasing the final Speed of Soul Weaver was done to improve the usability of various Soul Weavers in World Arena. After the constellation adjustment, we are now seeing previously unused Soul Weavers appearing in World Arena. Therefore, the effect will now be applied to Mages from the Triumph Season. We hope this adjustment will enlarge the Hero pool making World Arena more exciting.
Finally, the max Battle Frenzy level will decrease from 8 turns to 7 turns. Currently, most of the World Arena battles end before the max level effect is applied. We hope this adjustment can increase the effect of Battle Frenzy in battles.
We thank you for the love, support, and opinions you've shared with us. We will try our best to provide you with the best gaming experience possible.
Thank you.

STOVE 추천 컨텐츠
2023.03.30

2023.03.30 10:14 (UTC+0)

2023.03.30

2023.03.30 01:01 (UTC+0)

2023.03.29

2023.03.29 16:26 (UTC+0)

2023.03.29

2023.03.29 11:09 (UTC+0)

2023.03.29

2023.03.29 05:14 (UTC+0)

2023.03.28

2023.03.28 14:46 (UTC+0)