[Maintenance] 7/20 (Wed) Web Event Temporary Maintenance (Completed) [3]
2022.07.19 09:01 (UTC+0)
4105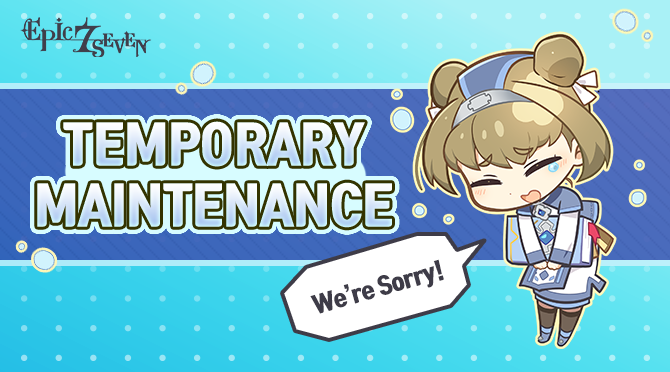 Hello, Heirs!
This is GM Dominiel.

(Completed)

Epic Seven's Web Event maintenance ended on 7/20 (Wed) 4:30 UTC and you can access the Web Event again.
We want to thank our Heirs for their patience and understanding during the maintenance period.
We will do our best to provide you with even better service.
Thank you.
---

In order to improve server stability, we will carry out temporary maintenance for the Web Event.

Please see below for more detailed information.

■ 7/20 (Wed) Web Event Temporary Maintenance
1. Schedule: 7/20 (Wed) 04:00 ~ 04:30 UTC
2. Details: Temporary Maintenance to improve the server stability for the Web Event
3. Affected content: Access to the Web Event, Vacation Uproar, will temporarily be unavailable.

※ Please Note!
- The Web Event maintenance schedule and content are subject to change. If any changes are made, we will inform you through this notice.
- During the Web Event temporary maintenance period, players will be unable to access the Web Event, Vacation Uproar. However, other content will be accessible.

We are extremely sorry for any inconvenience that this may have caused you.
We will always strive to provide the best experience for our Heirs.

Thank you.

STOVE 추천 컨텐츠
2022.08.01

2022.08.01 16:27 (UTC+0)

2022.08.01

2022.08.01 04:39 (UTC+0)

2022.07.30

2022.07.30 19:25 (UTC+0)

2022.07.30

2022.07.30 12:50 (UTC+0)

2022.07.28

2022.07.28 07:27 (UTC+0)

2022.07.28

2022.07.28 01:43 (UTC+0)