Is there any chance to build a RES DPS? [7]
RANK70

2022.07.14 10:37 (UTC+0)
661
Recently I tried to build some DPS with very high resistance because I feel boring with the bruiser and cleanser meta. The problem with it is that I cannot get enough of other stat if only focus on resistance. If you really want to build a resist unit, you want it to get over 200% res, which is technically equivalent to 200% atk, hp, def, 175% crit dmg,133 crit chance or 88 spd. It is unfair that we have to lower other stats so much just to resist all the control and debuffs from enemy while Aravi can just use Crimson seed still being so tanky with a bonus of 30% crit chance with CR push with a revive with insane dmg with healing with @#%$&abcxyz ... Another problem is you still get controlled easily with high effectiveness unit just because effectiveness is much easier to get than resistance (I mean, a pure controller only need effectiveness and spd to work). I think we must have a rework on Resistance system.

For the first problem, Resistance are not related to the other stat system so the adjustment that I can think of is to change the ratio of those stats on main and sub stat. A ring shouldn't have equal atk% and res% main stat, maybe it can be changed to 75% or 80% res instead to lower the requirement stat for the res DPS. Also the substat for the res can be a little bit higher compares to others.

For the second problem, instead of natural 15% res on every unit, it can be changed to: res stat is 15% (should be a lot more) higher than effectiveness stat. It is not fair that a controller only need equal eff to a hero's res to control him. 200 res is useless when you face an Aola with really low gear requirement. 100% gap to resist all is just really impossible. Even if you manage to have 300% res, other stat will be extremely low (a Rimuru will easily blow you away).

Another thing is, Ignore res and control-that-cannot-be-res is really unfair. A Politis with full dmg still control all over the battle with her passive (reduce 50% CR gain) even though all of your team have 200% res.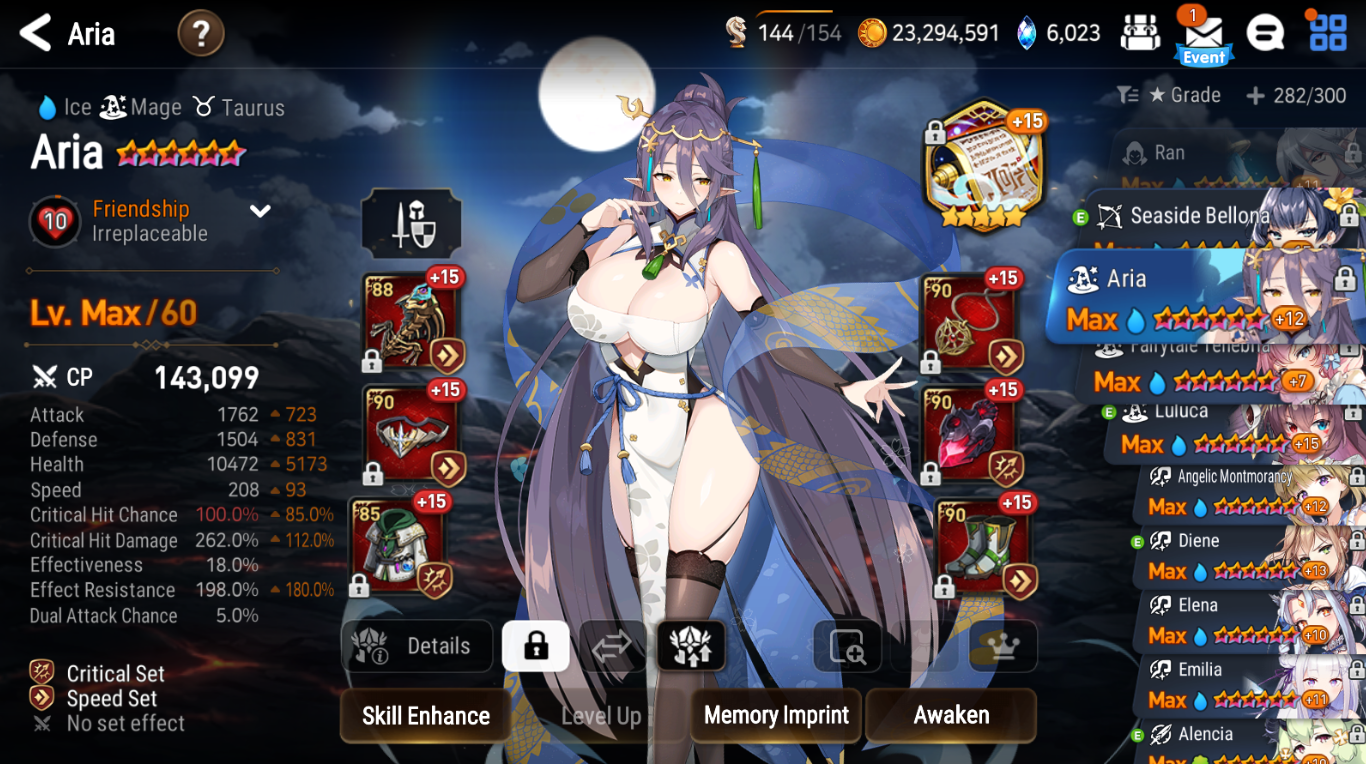 Here is my Aria on res build. I think she will be good on res build because:
- Bonus 30% crit chance (lower the requirement)
- Bonus crit dmg on passive (lower the requirement)
- Scale def (higher durability will also be higher dmg, lower the requirement)
- Has buff and REALLY rely on those buffs
Somehow I get her to 200% res with 100% crit chance. But the def and health drop so much that she will be one hit by every unit (I tried with higher def and health and she can't even break the barrier)


I really hope there will be some changes on this so we can have more ways to build a hero (not just stack health and def and still do insane dmg with the help of Handguy)
STOVE 추천 컨텐츠
2022.08.01

2022.08.01 16:27 (UTC+0)

2022.08.01

2022.08.01 04:39 (UTC+0)

2022.07.30

2022.07.30 19:25 (UTC+0)

2022.07.30

2022.07.30 12:50 (UTC+0)

2022.07.28

2022.07.28 07:27 (UTC+0)

2022.07.28

2022.07.28 01:43 (UTC+0)