The decline and AWAKEN in a nutshell [32]
2022.07.07 16:42 (UTC+0)
1840
Warning: long post, not appropriate for people having issues with words, I'll just ignore those dumbo replies and trolls, don't have the energy or time to deal with them.
With the recent talk about the decline of E7, if it's dying or not and so on, I got curious for actual numbers so I looked for them. I only looked for Android numbers because screw apple.
Anyway, the decline is definitely there, I actually didn't expect E7 being so low in it's category ranking, I assumed it would be in the top 20 at least. Also interesting to see is the behavior around the AWAKEN update, as I've been saying that it really was just smoke and mirrors, just a bunch of gifts to distract us from the fact that the game hasn't really improved much. Glad to see people in general have noticed the same.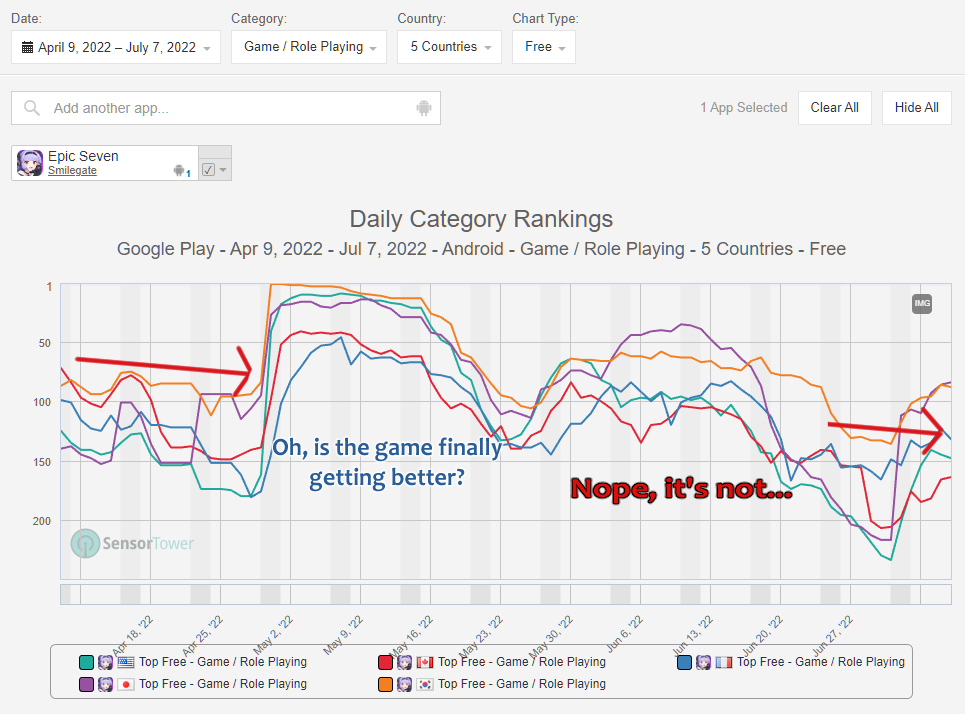 Having said that, though the decline is real the game is far from dying. In the revenue category for the USA it was around number 8 last time I saw, making 4m worldwide since May, much higher than other games like Counterside which is way higher in the category ranking. Interestingly enough, though E7 category ranking is highest in South Korea and Japan, it's not as high in the revenue ranking in those countries as it is in the USA, being in the 20s for SA and Japan. This doesn't necessarily means USA is the biggest source of revenue and I couldn't find a chart for exact revenue per country, but I'm guessing it is, or at the very least around equal.
With these numbers in mind I think it's fair to say it's true something some of us were thinking. It is definitely in decline, losing players and not being able to get new players (or at least keep them long enough), but it's still supported by a very loyal group of whales. Does SG honestly think the game is in a good spot to push for the esport stuff? I seriously don't think it is. The game is getting stagnant and at this rate it's just a matter of time until the whales start dropping the game as well, while pushing for the esport now it's just making it worse as they are getting much more shy to make big changes on top of delaying new content to avoid messing with the meta at all.
So yes, I'm going to say it again, for me it always boils down to how horrible is the gear grind. Yes, there are also balance issues but at the end of the day which units are busted doesn't matter if they don't have good gear in the first place. As always, I'm never saying the RNG has to be removed from the gear system completely, but it has to be eased a lot more. Little bandaids like the mileage system don't cut it. E7 is never going to get the "fresh blood" required for a healthy esport scene while they expect new players (or even those playing already for years with no luck) to play for years to MAYBE... HOPEFULLY... get decent enough gear to compete.
The usual counter-argument that the game would be boring if everybody had the same gear is ignorant, at best.
1) Again, not saying to remove RNG entirely, that's not making all the gear the same it's just making possible for more people to get strong gear in a decent period of time. If you don't think that's okay then it's just you not wanting competition.
2) It would promote much more experimentation and actually make building characters fun even if the build you made didn't work.
3) Actually making skill and strategy more important.
4) Pretty much every successful esport that I can remember right now has ALL players starting on equal footing. You just choose a character and all characters are the same for everybody. Agaaain... because I feel I have to repeat myself on this... not saying E7 should be like this, but it makes a point on how the current amount of ridiculous RNG is not only unneeded but it's hurting it.
But sure... if you think more or less the same thousand people doing RTA in the top two tiers all the time, with some people still struggling and believing they can do it too in lower tiers and a LARGE chunk just going for master to get the skin or not even doing RTA at all, are all signs of a healthy scene for an esport... by all means, go ahead straight to that iceberg.
Personally, I'll play during July for the buffs, try getting ML Vivian with whatever medals I get freely and maaaybe even last until the end of Episode 4 since we are almost there and it would bother me leaving it at this point, depending on how the censorship issue gets resolved, of course. But until then if I don't see any intention to change the gear grind enough, I'll just drop the game. It's just not worth it as it is.
So, for those reading all my rant, thank you for reading and yes, it was a long rant, but I do care for the game so I felt obliged to voice my concerns and reasons why I would leave it before I do so.
PD. While reading about other gacha games it's really funny how so many people mentioning E7 do so almost like sharing war stories on how bad it was playing it, even read some people who didn't even bother with Artery Gear precisely because they heard it was like E7, no matter if it was E7 but better QoL.(Btw, Artery Gear is doing pretty good so far both in category ranking and revenue ranking!)
STOVE 추천 컨텐츠
2022.08.01

2022.08.01 16:27 (UTC+0)

2022.08.01

2022.08.01 04:39 (UTC+0)

2022.07.30

2022.07.30 19:25 (UTC+0)

2022.07.30

2022.07.30 12:50 (UTC+0)

2022.07.28

2022.07.28 07:27 (UTC+0)

2022.07.28

2022.07.28 01:43 (UTC+0)