hunt mats and gear rng
without hunt buff, you need to complete hunt around 4 times to craft 1 lv85 piece.chances are, that piece will probably be trash (blue, or just unusable in general).lets say you have a very good (100% clear rate) and very fast (~1min) team and you hunt 40 times. thats ~40min and 800 stamina for one x10 craft. chances are, none of those 10 pieces are even usable.ok but eventually after enough hunting and crafting maybe you do an EPIC craft or eqquipment conversion, yes? well, although sometimes(very rarely) you do get what you're looking for, more often than not its just more trash. wasting so much time and resources just to get a guaranteed red piece is ridiculous. that red piece can and will still have 20 e.score and/or bad substats. their idea of a hunt buff is just as much ridiculous. it comes like once a month and its usually only 50%. this is hillarious because even if we had a permanent 50% hunt mat boost it would still not be enough mats to overcome the absurd amount of rng involved in gear acquisition and enhancing... again, we get it once a month...in my opinion, they either need to greatly increase the amount of hunt mats dropped in hunts 13 (at the very least double what we currently get or make hunt buff a 300% increase instead) or greatly reduce the amount of rng involved in gear acquisition and enhancing (improve general craft rates, improve epic craft and eqquipment conversion). out of this two options i suggest the first simply beacause its very direct and easy. although reducing gear rng is overall more desirable, it is easier said than done and they've proved to be unable to properly address it. they tried to ease gear enhancing with those mana reversion stones but cmon lets be honest they're the definition of unreliable we'll probably get one per century and even if you use them not only do you have to waste your charms and gold all over again but the piece can just roll bad again. dont get me wrong its better than nothing i appreciate the effort and at least they tried, but with genuinely no offense to smilegate, they failed.i think most of this games sales come from summon-related items and i don't think increasing hunt mats acquisition would hurt the games income.thank you for reading, dude.
Forge gear events regret
[2]
Being relatively new to the game, I ended up making some terrible choices for the two items I now regret. I hardly even use the items I made, one just hangs around in my inventory and the other one being a filler piece at best. Considering how frustrating it can be to get gear with relevant substats and right stat distribution this just makes it all the more frustrating. Even though in the event was stated no changes can be made after confirmation of the items, is there really no possibility for a one time exchange or like a selector that allows for a single conversion to another set/item/stat distribution? Similar to the one time change of ML theater unit service. Realize its my own fault, so not expecting much from this post. But I would really appreciate any possibility to rectify my noob choices, as this wasnt just some Artena event that passes by every now and then. I plead for your mercy Smile Gate. Love this game, but having wasted this opportunity feels demoralizing. #ForgeYourGearEvent #PleaseHelp

공지
+1
[Issues] E7WC 2023 Match Pick'em Event Reward Distribution Issue
‌Hello Heirs!This is GM Dominiel.We would like to inform you about an issue that occurred during the E7WC 2023 Special Event on 9/23 (Sat). Due to a system error in the Match Pick'em event, the reward claim button was temporarily activated before the conclusion of the final match.We have confirmed that some players had already claimed the rewards when this issue occurred and were unable to normally collect the reward after the event ended. We will take separate measures to recollect the overpaid rewards from those affected by this issue and distribute the correct rewards via your in-game mailbox.We apologize for any inconvenience that this issue may have caused.We will continue to update you about this issue through this notice.Thank you.‌

공지
+3
Having Trouble Finding Your Epic Seven Account Info on the Match History Site?
Epic Seven offers two types of accounts: Guest and STOVE registered accounts.If you're having trouble searching your account on the Match History site, please follow the appropriate method below based on your account type. You can check your account type by logging into the game and navigating to "Account type" under "Settings." ■ Location: Quick Menu > Settings > Account Settings1. For Guest Accounts:- If your account type is Guest, we recommend linking your account to a registered STOVE account for access to your match history.ㄴ How to Link Your Account: Go to [Settings > Account Settings > Manage Account] and convert your account to a registered one using one of the five provided methods. (We recommend linking your account via email, Google, or Apple rather than a Social Media account.)- After linking your account, you'll be able to view your account's match history. 2. For STOVE Registered Accounts:- If your account type is a STOVE registered account, ensure that the account you've logged into on the Match History site matches your actual Epic Seven registered account.- By logging into your STOVE registered account that you use to play Epic Seven, your account's match history should appear on the website.- If your match history remains inaccessible even after logging in with your correct STOVE registered account, please contact our customer service. Thank you.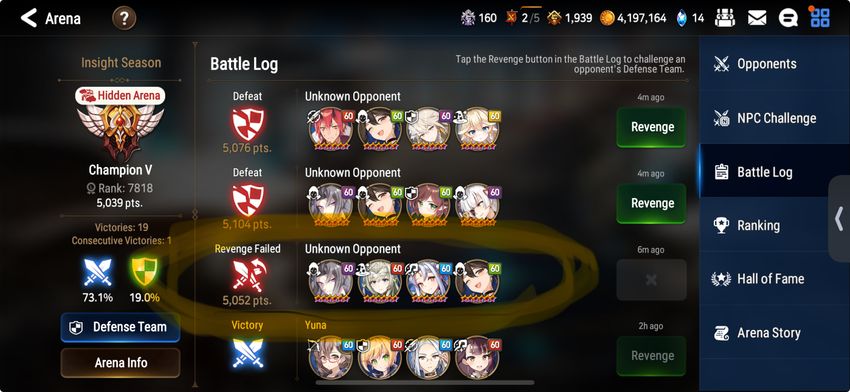 Politis or ML roana bug
[3]
I was attack by the team in the picture. I tried to revenge using a comp of zio , Ml roana, ml lakia, and sc Wanda. The defense comp was sc arowell, Luca, belian, and A. Ravi. My zio took first turn but Ml roana s2 didn't activate. Yes her S2 is full mola'd. my concern is the ML roana s2 is either not working properly or politis passive is affecting the revenge attack.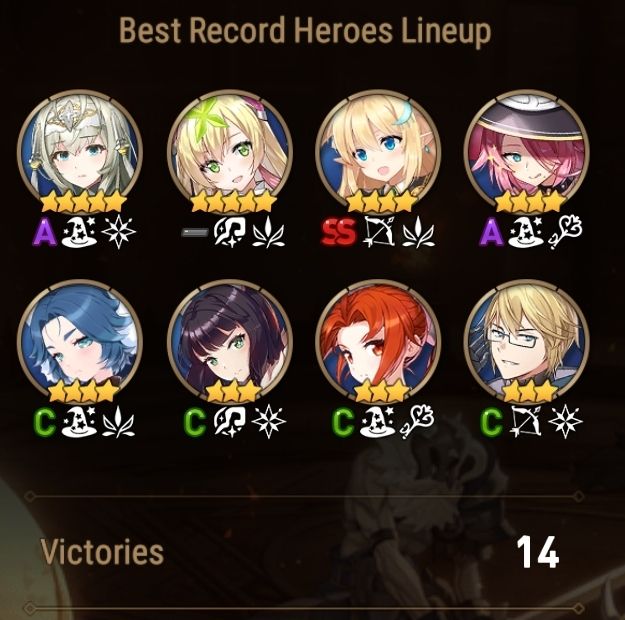 Can't beat my own team in Brawl
[4]
On my seccond win I already had a really good team, in fact I won 12 more times while trying many different compositions bug I can't beat it.Here is my team, with 4 mages, 3 Politis, 3 whatever it is called with Destina, Silk and Dominiel and 2 rangers.This team is unkillable with the mages' shield and heal coming from Destina, and just one shots all my other comps with Silk being SS and the mages.I can't complete the achievements at this point, and I'm just hurting myself trying to beat this comp, pls help, I went many times against this comp with like 3 or 4 S+ characters but still can't come close to beat it idk why.Could you please implement something like beating other people comps for the achievement?Yeah thanks for listening my complaint,I'll return to my grinding and sorrow...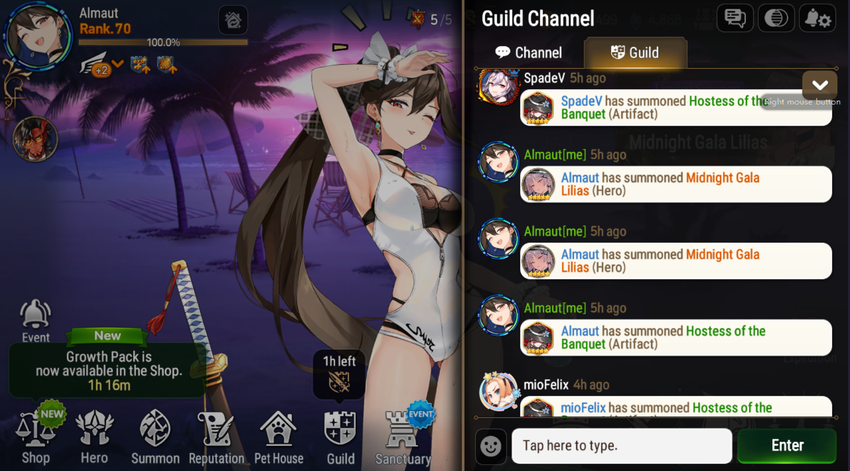 +2
Bug Summon Midnight Gala Lilias
[2]
I found this bug and this anoying. I have summon midnight gala lilias today and my connection got lagging. But in the process summoning i got notification for 2 hero and 1 artifact but in my hero storage or anywhere i can't find my 2nd midnight gala lilias. Please help me game master, this is my proof. #bugreport #GME7

+1
[Issues] Normalization of the Global Server Instability that Occurred on 9/21 (Thu)
[2]
Hello Heirs,This is GM Dominiel. The issue that caused instability on the global server on 9/21 (Thu) has been resolved. ■ Normalization of the Global Server Instability that Occurred on 9/21 (Thu)1) Resolved Date: 9/21 (Thu) 03:30 UTC2) Affected Server: Global3) Compensation- Distribution Schedule: 9/21 (Thu) 07:00 ~ 9/22 (Fri) 14:59 UTC- Eligibility: Heirs who play on the global server- Compensation: Leif x1 ※ Log into the game on the Global Server during the period above to receive the compensation in your in-game mailbox. (Storage period: 7 Days)※ We've also confirmed that there were issues where the number of ★5 Heroes and Artifact acquired were not accurately reflected on chat window during the server instability issue. We've confirmed the issue has been resolved as of now. We apologize for any inconvenience that this issue may have caused.We will do our best to ensure that you can enjoy Epic Seven in a stable environment. Thank you.