+2
Holiday Yufine & Blaze Figure Set Showcase Video
[5]
Hello, Heirs!This is GM Dominiel. The highly anticipated new Epic Seven figure, marking four years since the release of the first Limited Hero, 5★ Luna, will be unveiled! Continuing from the Luna figure, Project Cerberus has once again participated in creating a new hero, flawlessly replicating their in-game appearance! Check out the new figure set, Holiday Yufine & Blaze! ■ Holiday Yufine & Blaze Figure Set Showcase VideoThe figure showcased in the Preview video is currently undergoing final adjustments, including painting and mastering, to ensure perfection. Heirs will have the opportunity to meet the final version of the Holiday Yufine & Blaze figure set at Project Cerberus' booth during Wonder Festival in Japan on 7/30 (Sun) and at the E7WC 2023 Finals in Korea on 9/23 (Sat). Stay tuned for more news related to Holiday Yufine and Blaze figure set. We hope our Heirs will thoroughly enjoy the new figure. We encourage you to show your appreciation by giving a like (👍) to the Holiday Yufine & Blaze Figure Set showcase video and leaving a supportive comment! Thank you.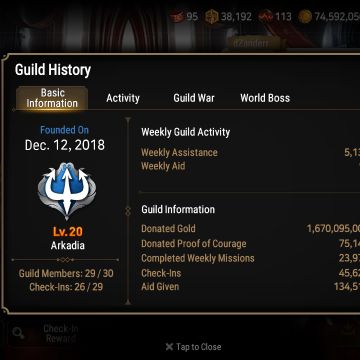 +1
XOXO皇后陛下/Arkadia/Global/SpanishGuildTop10Global
XOXO皇后陛下/Arkadia/Global/SpanishGuildTop10Global Spanish Guild, Top 10, Global! we look people who wants to have fun! We are guild war guild!! And active! So... This Is our participation in this post! Happy day all! if you are interested AND speak spanish a little bit AND have good units AND gear! Replay this post.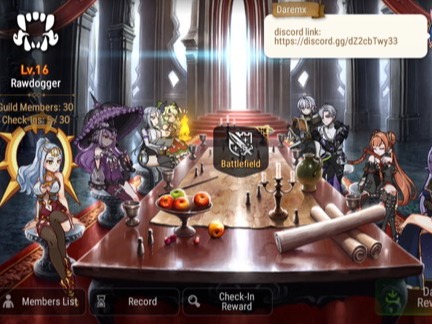 +3
Thepalelord / Rawdogger / Global / For the glory of the guild!
Tired of mediocre guilds? Are you not getting all the guild rewards? No guild buffs? (I was too)I started playing the game at the beginning of the year, and I was jumping form guild to guild trying to find committed people. Luckily, I joined one of the best guilds in e7, and that is Rawdogger, not only they have helped me to understand the game better, but with their help and guidance, I have been able to hit Masters in RTA and Challenger III in Guild Arena. We have a discord channel and we are very active! Don't hesitate to drop by https://discord.gg/5cW62gVb #VildredSupremacy #GuildWars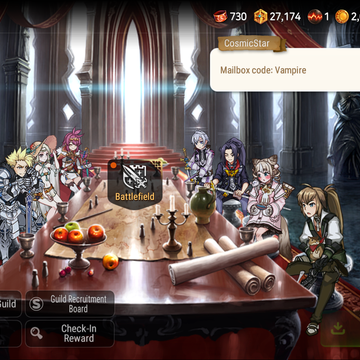 +4
Cosmicstar / HopeReborn / Global / Community comes first
HopeReborn is a casual guild that emphasizes community over in-game gains. Without taking care of the things that sustain us: family/friends, school/work, mental, emotional and physical well-being, it would be impossible to enjoy playing Epic Seven. People cannot survive on escapism alone, for that reason members are encouraged to join our Discord of the same name, however it is not required. Since a healthy sense of community is paramount HopeReborn only has one rule in-game; check-in daily. A community cannot be built with corpses, so inactives are removed from our in-game roster weekly. Although participation is only encouraged, not required, most of us participate in world boss, Guild Wars and Ancient Inheritance. Because many of us also give aid, do guild quests and donate HopeReborn is able to sustain experience and gold buffs 24/7 365. I am very thankful for and proud of my guild. Special thanks to the co-captains Silverne and Dunaway. Extra special thanks to the one who gives our guild life and inspiration the almighty mascot of HopeReborn; Josearokliff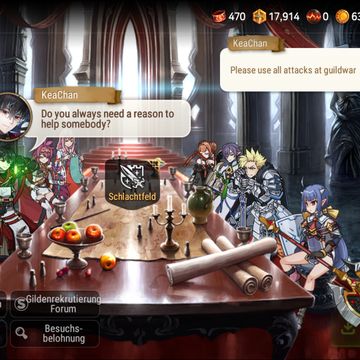 KeaChan/Global/JRPGHeroes/Teamwork and have fun
We are friendly semi competetive guild. Our goal is to reach 5x rewards in every guildwar season and clear AI (until now we always reached that goal).We can offer you nice guildmenbers who help each other. A discord group. 24/7 buffs.You should be at challenger-champion in arena, active and motivated to fight in guildwar.When your interested join our guild now!We have two slots open right now.