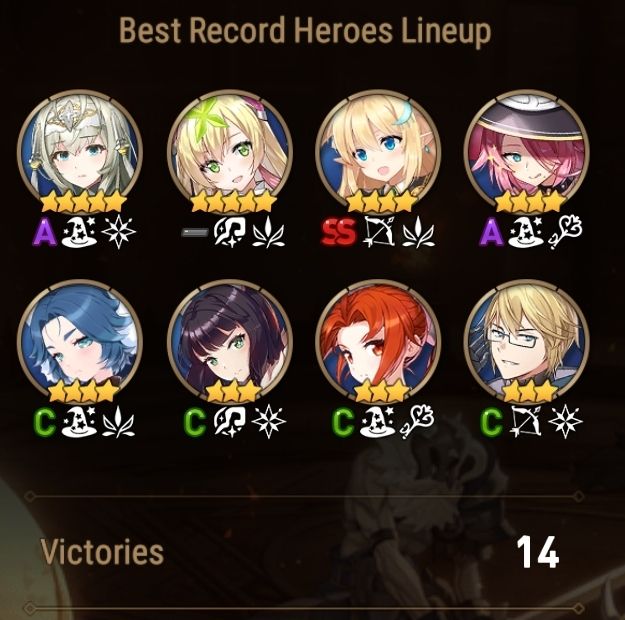 Can't beat my own team in Brawl
[4]
On my seccond win I already had a really good team, in fact I won 12 more times while trying many different compositions bug I can't beat it.Here is my team, with 4 mages, 3 Politis, 3 whatever it is called with Destina, Silk and Dominiel and 2 rangers.This team is unkillable with the mages' shield and heal coming from Destina, and just one shots all my other comps with Silk being SS and the mages.I can't complete the achievements at this point, and I'm just hurting myself trying to beat this comp, pls help, I went many times against this comp with like 3 or 4 S+ characters but still can't come close to beat it idk why.Could you please implement something like beating other people comps for the achievement?Yeah thanks for listening my complaint,I'll return to my grinding and sorrow...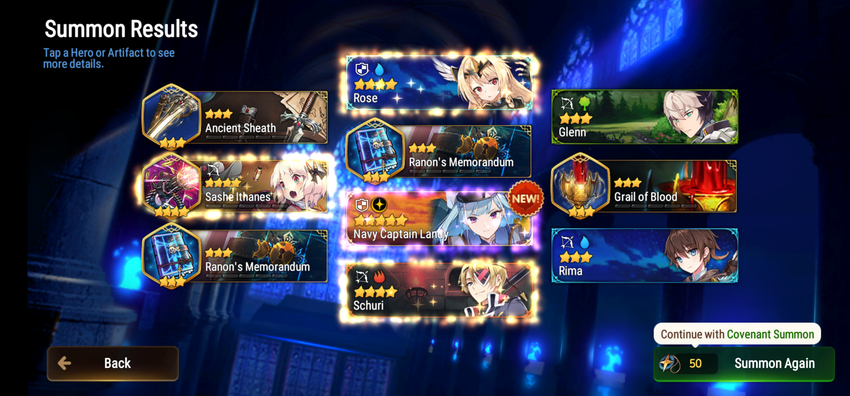 +1
Well, the C. Landy...
[3]
I got in a covenant summons a while back now has gear (not the best but it's something). I hid her stats as to not be shamed ;-P although as you can see her combat rating isn't high.Rhatboko / Global"Power without perception is spiritually useless, and therefore, of no true value."-Ryuken 'Fist of the North Star: The Movie'
Permanent Underground Brawl
[3]
I rarely see mini game in event got good review but this Underground Brawl is really nice. It's a bit confusing and difficult at first but I feel addict after that.About making this Underground Brawl as permanent mode :- Reset every 2 weeks or a month. Weekly or daily will make this content bore fast.- Have many set of heroes for each rotation similar to Automaton Tower gadget- Save progress and earn reward after win each round- Reward maybe lower than Automaton Tower : main reward are Returning Mana Stone and Mystic BM- After cleared final round, players can replay but no reward- Can earn extra reward by win against your champion team and maybe 3 final round win (one time and small reward as optional)- Challenge difficulty, player can freely reset and no stamina need anyway- Each heroes set has 5* x 6 (1 for each class) / 4* x 12 (2 for each class) / 3* x 18 (3 for each class)- Player can select rate up heroes for double gacha rate ( 1 select for 4* & 5* and 2 select for 3*)- Player can use buy target 3* without RNG but with 300-400% price.- Mainly change 5* heroes each rotation, some 3* & 4* may still depend on 5* synergy. Example 5* Dragon like Yufine or Cecilia, Rose as 4* same as Senya , 3* change from Penelope & Camillia to Christy, Melena and Helen.- Enemy team also rotate but not fixed with 5* heroes. Example : Final round boss is Straze & Ezera 5* Vildred then after many rotated and Straze comeback, Ezera 5* maybe Iseria for different team setup.Some idea for team synergy bonus : Savara - Barsar, Mui, Rin, Purrgis, Tiaria, RimaTaranor - Krua, Sigret, Arowell, DorisCidonia - Violet, Lilias, Ray, Ains, Hataan, EtonSpirit & Legos (Destina) - Luluca, RoanaNatalon (add from Theranhad) - Hwayoung, Peira, Surin, Orte, Lilka, Hurado
ML Kayron
[3]
While Tayron's buff is a step in the right direction, he still demands quite a bit when it comes to gear. In my view, he's among the neediest units in Epic Seven.Ideally, Tayron benefits from a lifesteal set to keep him alive with the HP recovery from counterattacks. However, his Skill 1's HP-based barrier is a bit unusual, pushing the need for health stats. As a bruiser, he faces issues like a lack of speed and vulnerability to controls, making him susceptible to control units. Even when not up against heavy control teams, many top PvP units bring dispels, stuns, or pesky debuffs, prompting the need for resistance stats.This essentially means Tayron requires nearly every stat in the game except dual attack and effectiveness, making him quite stat-hungry. If you consider trying a different path, like making him a cleave unit, you'll find that many other heroes outshine him in that role.To make Tayron more accessible and versatile, I suggest Smilegate lightens his gear requirements. One way could be giving him an innate 20-30% crit chance or a 30% effect resistance boost.
5* Libra Thief stats are great - earth Lilibet class change, pls?
Would love to see Lilibet's class change in the upcoming balance patch.I always thought her kit was thief class ever since the release. With Lilias' stats she can become a very nice dps. +12 base spd, +100 atk and +15% crit damage together with her +12% crit chance EE, she basically covers everything needed. IMHO at the moment, class change would benefit her the most rather than buffs unless you give her def pen on S3 and change S2 bleed to a def break - but even then, these buffs would be kinda dragged down by her warrior stats. So, yeah, please, SG!