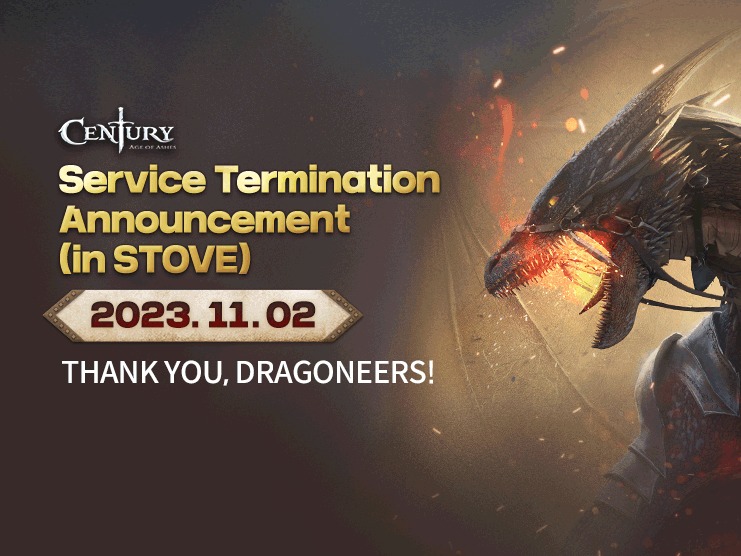 공지
[Announcement] Century: Age of Ashes - STOVE Service Termination
Century: Age of Ashes - STOVE Service Termination AnnouncementDear Dragoneers, We would like to announce that Century: Age of Ashes will be unlisted from STOVE on November 2, 2023. We express our deepest appreciation to all of our dragoneers from STOVE for their support during our time together. For further details, please see below. ■ Game to be Unlisted from STOVE Century: Age of Ashes (STOVE Service only) ■ Schedule1. Game Service Termination Schedule (in STOVE): November 2, 2023 at 10:00 KST (GMT +9) ※ Game Access is disabled from STOVE from this date.2. IAP Disable Schedule: September 21, 2023 at 12:00 KST (GMT +9) ※ You will not be able to charge Century Cash from this date, but will be able to use them until game service termination 3. Community Shutdown: December 15, 2023 at 10:00 KST (GMT +9) ※ You will not be able to recover posts after the community closes. If you have anything to back-up, please do so on your own before the community closes.■ Regarding Century Account Transfer Century: Age of Ashes supports cross-platform. Therefore, you will be able to transfer your STOVE Century account information to other platforms. (Note: Transfer to Steam, Epic Store, and Microsoft Store are supported)Please refer to the link below for more information on transferring your account. [ 🐲 Account Transfer Guidelines 🐲 ]■ Regarding Refund 1. Refund Application: November 2, 2023 ~ December 8, 2023 23:59 KST (UTC +9) 2. Refund Criteria 1) Eligible for Refund: Paid Gems retained after service termination 2) NOT Eligible for Refund A. Free Gems, Gems earned through events, rewards, or game play. B. Packages/Items purchased by Gems C. When component(s) of a purchased package is used. ■ How to Stubmit Refund Refund applications will be processed through customer service inquiries.Details on how to apply will be provided at a later date. For other inquiries regarding service termination, please contact Century: Age of Ashes Customer Center in STOVE. While this is not an easy news to hear, we once again thank you for your passion and support. We would to express our deepest thanks to Dragoneers who played Century: Age of Ashes through STOVE. Thank you.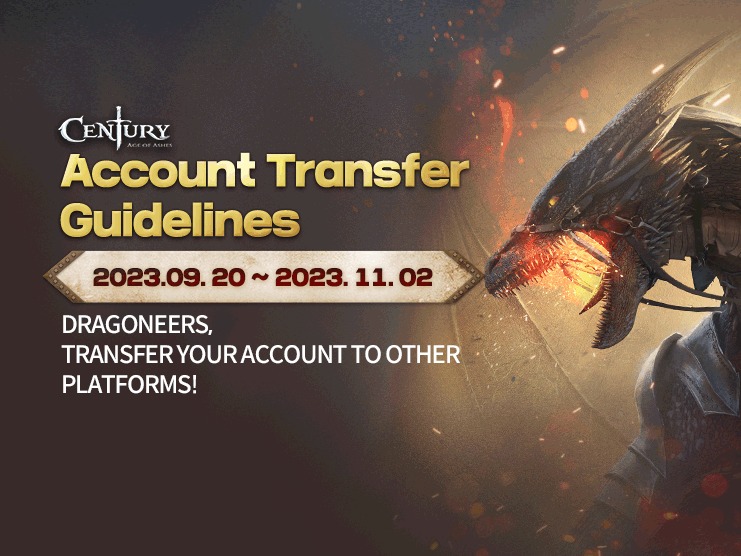 공지
Century Account Transfer Guidelines
Dear Dragoneers, As mentioned previously, Century: Age of Ashes will be unlisted from STOVE (See Announcement).In order to save your progression, Century: Age of Ashes supports platfrom transfer. Please follow the below steps, if you wish to continue your journey in other platforms. (Note: Supported platforms are - Steam, Epic Store, and Microsoft Store)[1. Cross-Platform Activation] ■ [ Game Lobby ] → [ Settings ] → [ Cross-Platform ] ▼▼▼■ [ Activate Cross-Platform Option ]Click "Enable Cross-Platform" button, as below▼▼▼Enter password which you will be using when linking the account.Password must contain 8 characters, with at least 1 uppercase letter, 1 lowercase letter, 1 number and 1 special character ▼▼▼If you see "Active:", as below, you have successfully activated Cross-Platform option. Please remember your Century ID and Password! [2. Linking Account to Other Platforms]When accessing Century: Age of Ashes for the first time in a new account, you should see "Terms Of Use" (as of below), then click "Accept" ▼▼▼From here, click "Link Account"▼▼▼Enter your Century ID and PW which you entered when activating Cross-Platfrom in STOVE Century: Age of Ashes, then Click "Confirm" ▼▼▼If the Century ID and Password is correct, the progression will be transfered.You will be able to continue your journey! [IMPORTANT NOTES:]■ While transferring your account to another platform: ▶ Remaining Century Cash will be converted to STOVE Cash, and Paid Gems are not eligible for refunds after the account is transferred. (You will be able to use them after the transfer) ■ Account transfer is only possible, when the platform account has never played Century: Age of Ashes. ▶ If you want to transfer your STOVE Century: Age of Ashes progression to the account which already played Century: Age of ashes, please contact Customer Center; format is provided below. ▶ Please note that your previous progression of the account which you want to transfer your STOVE Century: Age of Ashes will be deleted and cannot be recovered. ▶ Please refer to the above guidelines and submit your account initialization request carefully.※ Request Format 1. Stove Century ID: 2. Platform Name (e.g. Steam, Epic Store, MS Store, etc): 3. Century ID (of the account which you will transfer your STOVE Century: Age of Ashes Progression) :Thank you.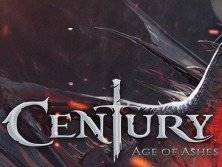 Announcement of Transfer of Personal Data Following Merger
Hello, This is Smilegate STOVE.Please be notified that Smilegate Stove Inc.("we" or the "Merged Company") will be merged with and into Smilegate Holdings Inc.("Smilegate Holdings") based on the decision of our general meeting of shareholders to approve such merger (the "Merger") on November 25, 2022.In line with the Merger, personal data of our clients and trading partners and officers and employees under our possession will be transferred to Smilegate Holdings on the date of the Merger: December 29, 2022. (However, please be noted that the dates of the Merger and transfer of personal data are subject to change or postponement, and changes, if any, in such dates will be further announced.)Who is Responsible?The following companies are responsible for the processing of personal data within the transfer:- Merged Company, as the transferor: Smilegate Stove Inc. 8F,10F, Smilegate Campus, 344, Pangyo-ro Bundang-gu, Seongnam-si, Gyeonggi-do 13493 Korea 82-1670-0399 stove@smilegate.com - Smilegate Holdings, as the transferee: Smilegate Holdings Inc. 5F, Solidspace Building, 220, Pangyoyeok-ro Bundang-gu, Seongnam-si, Gyeonggi-do 13493 Korea 82-31-600-8200What Data Are We Transferring?We will transfer the personal data of our clients and trading partners and officers and employees that we hold at the time of the Merger and that are needed to conduct our business activities. Depending on the data subjects, the following categories of data that we have collected will be transferred: • Data collected when you sign up for our Services: - with your STOVE account: STOVE ID, Password, Stove Nickname and age; - with your SNS(Facebook, Google, Twitter, Apple) or Guest(Google Play Games, Apple Game Center) account: Identifier associated with your SNS or Guest account, STOVE Nickname and information you choose to provide to us, such as email address, name, profile, etc.• Data collected when you use our Services or the Websites: - service usage records, improper use records, login records, payment records, IP information, country, PC specifications information and device information(OS, model name, identifiers such as UUID, advertising identifier);• Data collected when you contact our customer services: - your STOVE Account Login Information, STOVE Nickname, PC specifications information and email address;• Data collected when you make a payment for part of our Services: - your payment records (payment amount, name of product, payment date, order number, etc.) by the payment service provider and mobile app market that you use to make such payment.• Data collected when you use the STOVE Studio as a Partner: - your name, email address, phone number, identity information, bank account and payment details, etc. Why Are We Transferring the Data?Your personal data will be transferred for the purpose of effectuating the Merger, based on Merged Company's and Smilegate Holdings's legitimate interest to internally reorganize and thus promote enterprise value by enhancing management efficiency. We will only transfer the data which is strictly necessary for the described purpose. The data will be transferred to Smilegate Holdings's competent departments and will not be passed on or used for any unforeseen or unexpected purposes.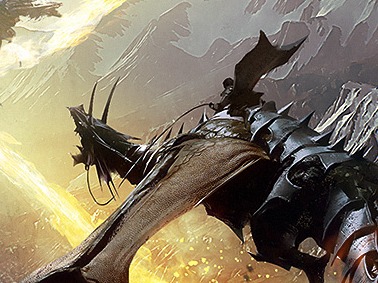 +3
What is Century: Age of Ashes?
Century: Age of Ashes is a free-to-play multiplayer dragon battle game. Master a growing roster of classes and dragons, compete in intense arena battles and rule the skies in fast-paced aerial combats.Compete in intense online games ranging from 3v3 to 6v6 and discover the fast-paced gameplay of Century : Age of Ashes! Dive into the arena alone or with friends and fight for your survival in exciting game modes:- Carnage: A 6v6 killing spree with special power ups appearing in the arena to unleash hell on your opponents. It's Team Deathmatch, Dragon riders style!- Gates of Fire: A unique mode in which two teams clash over possession of the flag. Gain points by flying through special gates around the arena while holding the flag!- Spoils of War: Steal gold from mighty creatures & the enemy team while protecting your own gold nest, and adapt to various unexpected situations!- Survival: It's every dragoneer for themselves! Pit against 8 other players in a ferocious and unforgiving free-for-all clash and burn your way until there's only one left on the battlefield.Experience different play styles with 4 unique classes, each with their own abilities! Shield and disorient as the Windguard, track and destroy as the Marauder, stealth and trap as the Phantom, or rush and thunder-shock your opponents as the Stormraiser! How will you choose your path to victory?Your dragon, your style! Century: Age of Ashes offers carefully designed cosmetic items to stand out in the arena. Gain experience as you play and unlock awesome skins to customize your dragon and its rider! Don't worry, these items are purely cosmetic and offer no advantage in battle.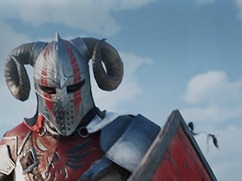 공지
[Notice] Launch Announcement
Hello Dragoneers! We are delighted to announce that Century: Age of Ashes is open for STOVE users from July 27th, 2022, from 07:00 GMT! Customize your dragon, dive into the arena and compete to become a legendary Dragoneer.Burn your enemies and rule the skies!